Upgrade in decoration capabilities

will help introduce new products.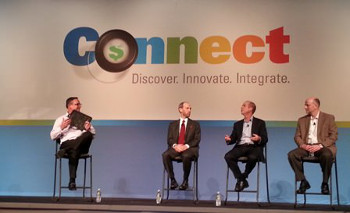 During a panel session at the recent EFI Connect conference, Hardwire CEO George Tunis (second from right) and EFI's Frank Mallozzi (far left) discuss a bulletproof Hardwire clipboard that features graphics printed on Tunis's new EFI VUTEk QS2 Pro UV-inkjet printer.EFI™ announced that US armour systems manufacturer Hardwire LLC has purchased an EFI VUTEk® QS2 Pro UV inkjet printer. The investment in the newly installed, two-meter wide printer was made to meet growing demand by improving the company's custom decoration processes.
For many years now, Hardwire's product lines focused on armour for government and military vehicles, boats, aircrafts, personnel and infrastructure. About three years ago, Hardwire began expanding into new markets, after a spin-off of its military products, the Bulletproof Clipboard and Ballistic Tactical Shield, became popular with police departments and SWAT teams. Then, after the Sandy Hook School Shooting in Connecticut (USA), the company decided to adapt the product line to develop bulletproof whiteboards, backpack inserts, and point-of-purchase shields. This was as a result of a growing base of customers that includes schools, office buildings, business travellers, health clubs, and retail and convenience stores.
The company manufactures its products by applying a significant amount of pressure to the ultra-high-molecular-weight polyethylene fibre Hardwire uses in its armour. The colours in the inkjet-printed graphics Hardwire utilised previously did not hold up under those conditions, so the company had to apply graphics to the outside of its products post manufacturing. Now, with the VUTEk QS2 Pro printer, Hardwire can incorporate durable, UV inkjet-printed graphics in the actual armour manufacturing process.
"EFI's UV inks solve the issues we had before," said Hardwire's CEO, George Tunis. "With our new VUTEk device, we can print directly on the armour or on our speciality film layers, and the colours in the graphics don't run in our manufacturing process. Not only will the graphics last longer during use, our decorated products have a cleaner, higher-quality look that allows them to blend into their surroundings in a non-militarised way."
Hardwire installed its VUTEk QS2 Pro, along with an EFI Fiery® proServer used to drive the printer, in December 2013. The upgrade in decoration capabilities will help the company's marketing efforts as it introduces new products.
The more-advanced graphics capabilities Hardwire gained with its VUTEk QS2 Pro UV inkjet printer opens the door to increased business in these new, commercially focused markets. The company is currently developing shields for retail stores, advertising agencies, and schools that incorporate high-end graphics. The printed shields serve as advertisements and welcome signs on a daily basis, but provide ballistic protection in emergency situations.
The VUTEk QS2 Pro is a robust, production-level UV printer combining true greyscale print quality, colour accuracy and consistency for businesses looking to grow by offering colour-critical and higher-premium products. The printer offers point-of-purchase image quality with six-colour process and three-layer white inks. The VUTEk QS2 Pro's user interface allows users to run multiple jobs at once without RIPing larger layout files. The printer, which now comes standard with roll-to-roll functionality, prints on rigid sheet and flexible media up to 80-inches wide and up to 2-inches thick.
"The EFI VUTEk QS2 Pro printer has a mix of features designed to give customers new options for innovation," said Scott Schinlever, senior vice president and general manager of EFI's Inkjet Solutions. "Hardwire's creativity with the QS2 Pro speaks to digital printing's promising growth potential in unique, high-quality product applications."
Hardwire's new Fiery proServer includes a parallel-processing production RIP and comprehensive colour management tools, as well as default media profiles, pre-installed pre-sets and other automated workflow features. Hardwire's production personnel can use the Fiery proServer to manage important details like printing mode, carriage speed, curing and shutter modes while receiving real-time printer status, job status and consumable usage updates.
For more information about EFI VUTEk and Fiery products, visit www.efi.com

Follow us on Twitter - @DigiPrintNews
Like us on Facebook www.facebook.com/DPNLive - (click the 'LIKED' button/top of page as well)
Copyright © 2014, DPNLIVE – All Rights Reserved.