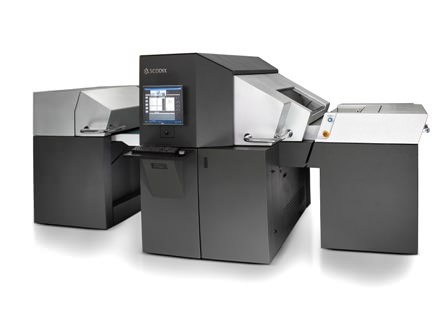 AccuLink, a leading US print service provider, has purchased a Scodix1200™ Digital Press at GRAPH EXPO 2011 from Scodix with a view to expand its services portfolio using the innovative Scodix SENSE™ printing experience.
It was the first Scodix1200™ order taken at the show which ran from September 11-14 in Chicago, where Scodix announced the Scodix SENSE™ offering at its show booth.
AccuLink decided to buy the Scodix1200™ Digital Press after seeing and feeling the impressive Scodix SENSE™ experience at GRAPH EXPO, said AccuLink owner Tom O'Brien. "This technology acquisition will differentiate the companies business from others by offering a high-quality, innovative product for AccuLink's customers," he commented.
"A top tier PSP in the US that produces high-end printing jobs, AccuLink is a prime owner for the Scodix1200™ that enhances applications with the value-creating Scodix SENSE™," said Scodix VP Global Sales and Business Development Dror Danai.
The Scodix1200 Digital Press produces Scodix SENSE™ by registering clear polymer with pinpoint accuracy to printed images using a patented optical guidance system. Delivering variable levels of thickness and texture on single or double-sided printing, the Scodix1200™ has the capacity to produce up to 99 Gloss Units (GU), polymer height up to 70 microns, and density capabilities from 1% to 100%, for an unmatched range of enhancement.
Scodix SENSE™ is a new digital printing experience bringing true differentiation to print service providers, clients and products.
"I am very happy with the Acculink decision to purchase the Scodix1200 and look forward to see how it supports the clients business and its customers by creating many new jobs using the Scodix SENSE™," said Scodix CEO Kobi Bar.
About AccuLink
AccuLink, located in Greenville, NC, has been in business since 1980, serving clients in all fifty states as well as many international accounts with a broad range of services. It prides itself on continuing to add value to the company's communication solutions with superior service, technology and expertise. For more information please visit www.acculink.com
About Scodix
Scodix Ltd. is a leading provider of digital print enhancement for the graphic arts industry, offering the breakthrough Scodix SENSE™ experience in North America, Europe, Middle-East, Asia and Africa. Founded by veterans of the Graphic Arts industry in 2007, Scodix has partnerships with global IT leaders such as HP Indigo and DSCOOP with the aim of offering customers true brand differentiation in today's highly competitive printing environment. For more information please visit