Sustainability the aim with new

EFI Jetrion LED Inkjet Press.
---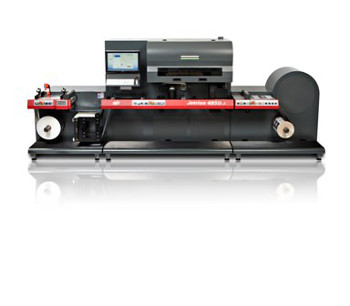 Jetrion® 4950lx LED inkjet narrow web pressEFI™ announced that US based Graphic Label Solutions (GLS), a WBENC Certified Diversity Supplier headquartered in Columbia, Tennessee has installed a Jetrion® 4950lx LED inkjet narrow web press, the first in the United States.
---
Due to the newly installed technology, the label converting company has sold off its previous production equipment - including a narrow web flexographic press, a screen printing press and a roll-to-roll, solvent inkjet printer - replacing it all with the new, 13.5-inch wide press from EFI.
GLS's investment is a reflection of the continuous strategic steps the company has made to redefine both its market position and the special strategic advantage it offers to clients.
This progressive approach earned it the U.S. Small Business Administration's HUBZone Company of the Year award for the State of Tennessee. GLS is now working hard on its next big initiative, gearing up its sustainability efforts to meet companies growing need for greener, environmentally friendly supply chains. It believes that the Jetrion 4950LX press, which EFI says uses much less energy than other analogue or digital narrow web printing methods, is key to GLS's environmental offering.
"The brands we work with are all setting goals for sustainability, and they want suppliers who share that commitment," according to GLS's founder and president, Deb Warner. "When I first saw EFI Jetrion UV-inkjet technology a few years ago, I knew it would help us offer high quality while reducing waste. LED was the missing piece I needed to really address what our clients are looking for from a sustainability perspective."
EFI added that GLS's new Jetrion 4950LX LED press extends the versatile capabilities of EFI's digital label printing systems, and gives users the ability to produce more primary applications with higher image quality. The press can also reproduce smaller type all the way down to 2-point text, which allows for creativity in the security market.
"The Jetrion 4950LX not only offers a small environmental footprint, it has an excellent white ink and, at 720x720 dpi, it produces very crisp text and images, and allows us to run an unlimited number of colours," said Warner.
EFI's "cool cure" LED UV-inkjet curing technology is another feature which the company said allows GLS the ability to run thin and challenging stocks ranging from 0.5 mil to 30+ mil thick. It pointed out that the press also reduces costs with lower energy usage and LED's significantly delivering longer lamp life compared to traditional UV-curing lamps.
The Jetrion 4950LX LED press prints on the same substrates GLS used on conventional equipment, a level of flexibility that Warner can use to expand offerings in multiple new markets, with a major focus on sustainably managed applications.
It is currently developing what it terms as attractive, innovative and sustainable products with its new press, including a point-of-purchase "shelf talker" tag printed on a completely biodegradable, paper-like substrate made of stone. GLS is also using the machines to develop new UL- and cUL-approved OEM labels and decals. EFI maintain that the Jetrion 4950LX press is the first Jetrion product compatible with a full range of flexible packaging and shrink sleeves substrates, something it believes will open the door to still more new applications at GLS.
GLS's digital converting operation is now geared to offer lower manufacturing costs and high-end quality, using EFI's inkjet imaging technology and the modular equipment installed on the press, including in-line flexo varnish and lamination, slitting and laser die-cutting systems. GLS's press also has on-board video inspection technology from another supplier that checks for variances in colour or registration.
The company commented that the press's laser die-cutting system eliminates the costs for traditional dies, which will offer substantial savings for customers. Removing the waste associated with die-cutting make-ready processes also is compatible with GLS's sustainability efforts.
"The benefits and features of our newest press model are a game changer in narrow web printing, creating a unique opportunity for lean manufacturing of short- and medium-run labels," said Stephen Emery, vice president of EFI's Jetrion and ink business operations. "As the very first EFI Jetrion 4950LX user in the country, GLS is establishing a competitive advantage for itself with LED while showing how the label and packaging industry can continue evolving along a sustainable path."
A video of GLS's new press installation is available on YouTube at: http://youtu.be/NtAgr6XAen0.
For more information about EFI Jetrion narrow web presses, visit www.efi.com
Follow us on Twitter - @DigiPrintNews
Like us on Facebook www.facebook.com/DPNLive - (click the 'LIKED' button/top of page as well)
Copyright © 2014, DPNLIVE – All Rights Reserved.