Investment made to establish a dedicated, high-end superwide inkjet offering.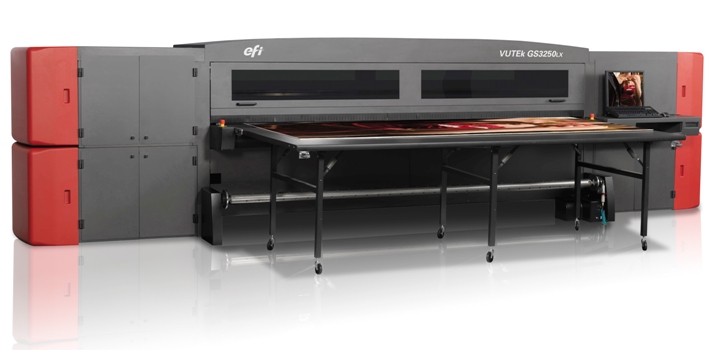 VUTEk GS3250LX FlatbedEFI™ reported that US Company, Consolidated Solutions has acquired two 3.2m EFI VUTEk® GS3250LX Pro printers with UltraDrop™ Technology. The hybrid flatbed/roll-to-roll printers were purchased to help it meet growing demand for point-of-purchase displays, unique media displays and other graphics applications, for one of Ohio's leading independent printing and marketing solutions companies.
The LED inkjet printers replace an older UV inkjet printer that the company inherited when it acquired assets of a competitor in nearby Akron, Ohio. Consolidated Solutions' Innovations Lab in Akron is now a dedicated facility for superwide-format graphics, which the company sells to customers in a variety of vertical markets, including the manufacturing, retail, healthcare and insurance industries.
"We have been thrilled with the quality and throughput of our new VUTEk printers, and they have helped us gain new work from existing customers as well as secure new clients," said Matt Reville, Consolidated Solutions' chief operating officer. "Our clients often require unique - not commodity - products, and these printers truly fit the bill."
Hybrid roll-to-roll and flatbed capabilities, fast throughput and high quality were important buying criteria when Consolidated Solutions executives started evaluating new superwide-format inkjet production options. The client list Consolidated Solutions acquired several years ago included a base of superwide-format work. Reville and other senior managers at Consolidated Solutions looked at technology investments required to address an important new growth opportunity.
Consolidated Solutions is a long-time EFI customer, and its history with EFI was another factor that played into the search for a reliable superwide-format inkjet technology vendor. "In addition to our belief that EFI has the strongest products, we also value our relationship with them, their knowledge of the industry and our needs, and their responsiveness," Reville explained. "Those were all critical aspects of our decision process, and it has proved to be a good decision for us and for our customers."
Consolidated Solutions has used EFI PrintStream software for several years to manage its operations. The company also relies on EFI Fiery® digital front ends to drive consistent, high-quality imaging on its cut-sheet digital presses.
EFI said Consolidated Solutions benefits from several key advantages the 3.2m LED hybrid printers offer including:
Better speed and throughput compared to its previous printer and competitive solutions in the same price range
Higher-quality output with the printers' 7 picolitre UltraDrop Technology platform
Single-pass white ink capability, which makes it easier to produce stunning graphics on transparent and dark media
EFI's cool cure LED platform, which saves on energy costs and expands the range of compatible media by printing on thin or delicate substrates that cannot withstand the heat of curing or drying methods of UV or latex inkjet printers.
"Our company was founded on principles that are just as important today as they were when the company was started in 1996," added Reville. "Those are providing the best customer service, based on the best technology, and delivering the best quality. The ability to print premium-quality LED inkjet printing at production-level speeds is a key enabler in our ability to carry those principles through to our growing superwide-format business."
"By being familiar with Consolidated Solutions' operations, strategic goals, and market opportunities, we were able to work with Matt Reville and his team to bring them the most efficient, high-end inkjet solution to jump-start their superwide-format operations and capture new growth opportunities," said Frank Mallozzi, EFI's senior vice president of worldwide sales and marketing. "Companies like Consolidated Solutions, with their vision and business savvy, are exciting business partners for us at EFI."
For more information about EFI VUTEk printers, visit www.efi.com.
You can Tweet, Like us on Facebook, Share, Google+, Pinit, print and email from the top of this article.
Copyright © 2015, DPNLIVE – All Rights Reserved.