One millionth software sale is achieved in

the company's 25th Anniversary Year.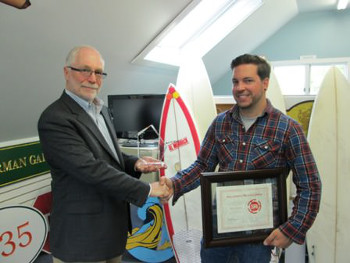 Don Feagan, President and COO of SAi (left), presents Will Mclear, owner of Ocean Graphics & Signs, with a commemorative trophy and plaqueIt's not many companies that can boast a double celebration in any given year, both in terms of longevity and sales achievements. But that's exactly what US based SA International (SAi), is celebrating in 2014, a double-milestone, as it heads back from this year's FESPA Digital exhibition. Not only has the company achieved the landmark figure of one million software solutions sold, but has done so as it marks its 25th anniversary year.
---
---
The sale of SAi's millionth software package is from the company's Flexi family of professional signmaking products. It is possibly the most-widely-known and popular signmaking software available, and the anniversary package was purchased by Ocean Graphics & Signs, a full service sign shop based in East Hampton, New York, USA.
"This is truly a magnificent achievement and underscores the long-held popularity and continued confidence within the marketplace, not only in our flagship Flexi offering, but in SAi's growing portfolio as a whole", says Mark Blundell, CEO, SAi. "Over what is a generation, SAi has built its success on dedicated staff, notably our solutions developers and sales teams.
"We're delighted that Ocean Graphics & Signs, a business with over 50 years' experience in signmaking, vinyl lettering and printing, has received our one millionth software solution, as the company reflects the profile of many of our customers," he concluded.
2014 also marks the 25th year of operations for the Salt Lake City headquartered SAi. Formerly Scanvec Amiable, the company was founded as an Israeli corporation in 1989 before merging with Amiable Technologies, Inc. in November 1998.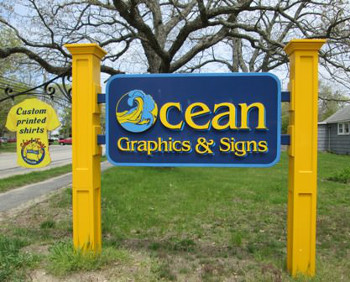 Ocean Graphics & Signs, based in East Hampton, New York, USA.The company is well known as a leading provider of solutions for the professional signmaking, large format digital printing and CAD/CAM for CNC machining industries. These include the intuitive PhotoPRINTTM family print and cut workflow package which SAi claim is found on more large-format printers than any other RIP, as well as its PixelBlasterTM print-to-finish production software.
A quarter century of trading later, SAi can point to progressive growth, developing a well-distributed network of resellers around the world and establishing a presence across five continents. Today the company serves over 200,000 customers in more than 50 countries, and continues to enjoy strong OEM relationships and partnerships with a number of industry leaders.
As well as being the founder last year of the International Sign & Printmakers Guild, SAi was also the first RIP manufacturer to offer a free mobile application to provide businesses owners with remote access to valuable production information while away from the office.
http://www.thinksai.com/
Follow us on Twitter - @DigiPrintNews
Like us on Facebook www.facebook.com/DPNLive - (click the 'LIKED' button/top of page as well)
Copyright © 2013, DPNLIVE – All Rights Reserved.