Nauseating little creatures that can impact the future.
---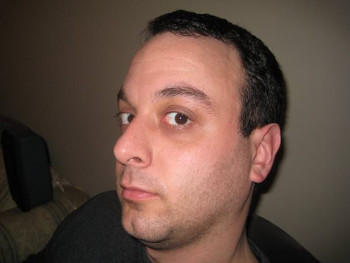 the look of a curious mind Daniel SteigerBeetles are very impactful in the lives of humans.  They should be, they make up 25% of all animals living on the planet with approximately 400,000 known species.  By some estimates, there may be as many as 3 million species living on the planet. 
---
The tiny, heavily armored insects have inspired the names of an iconic car, a comic strip, and the most iconic rock band in history (despite the misspelling).  People have been making use of beetles for thousands of years.  Several cultures made use of beetle wings in artwork, jewellery, decorations, and more.  The ancient Egyptians even gave the scarab beetle sacred status meaning a restoration of life.
In Thailand and India, beetles have a history of use in textiles to achieve unique colors or a metallic look.  Many food companies have turned to crushed beetles as a natural food dye and the bugs have found their way into candy, juices, yogurt, and more.  The exoskeletons of the beetles add a natural pink or red color.  Naturally, people gag at the idea that they are eating bugs.  Are they justified, or are the tiny creatures misunderstood?  Consider artificial dyes that are used in foods.  Red Dye #40 replaced Red Dye #2 because the US Food and Drug administration found that it causes cancer.  It sounds like a reasonable switch but Red Dye #40 contains ingredients have also been linked to cancer.
Beetle exoskeletons don't sound so bad now, do they?  If you are still concerned about eating bugs, there are some terms to look for including carmine, cochineal, or confectioner's glaze.  Eighty per cent of countries around the globe use insects in some way.  In Southeast Asia, around 150-200 types of bugs are used in cuisine.  There are many benefits to eating insects:  They are abundant, they provide and excellent source of protein and iron while being low in fat, and they can be pretty tasty.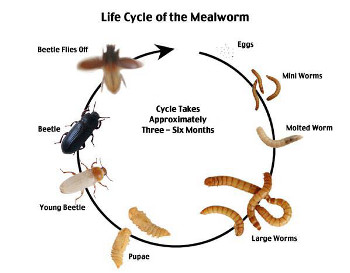 Meal Worm Cycle of LifeDarkling beetle larvae, also known as mealworms are also very popular in food items.  Rumors that McDonalds uses them as fillers in their burgers have been spreading since the 1970's.  While 70% of all farmland is used by livestock, raising mealworms requires a small fraction of the land area (about 1/10th).  They also produce far less greenhouse gasses than their vertebrate counterparts.  The use of mealworms in cooking has gained quite a following, with many people using them in recipes.  The best part is that these insects take on the flavor of whatever you cook them in, so you probably would not know if you are eating them.
Insects are not just for human consumption either.  A French start-up company called Ynsect is working on an alternative to soybean based animal feed using beetle and fly larvae.  Soybean prices have risen constantly over the past decade and will probably keep rising for years to come.  Use of insects can be low cost, easier to breed, and can have a great yield:  1 Kg of housefly eggs can yield 380 Kg of larvae in just a few days.  Co-founder of Ynsect, Jean Gabriel Levon says that insects also make great fertilizer because they drink very little water.  Their dropping are dry and sand like, which make them perfect for fertilizing.  With the Global population expected to double by 2050, a potential food shortage problem looms large.  By some estimates, 70% more animal feed would be needed to meet demand.
There are more potential uses for beetles than just food.  A joint effort by researchers at Cambridge University's Cavendish Laboratory and the European Laboratory for non-Linear Spectroscopy in Italy have discovered that the scales of the Cyphochilus Beetle can scatter light better than any other material known.  This scattering of light creates the brightest shade of white ever discovered, even brighter than anything being engineered according to Cambridge University Scientists.  It is not just achieving a brighter white that interests the research team.  These findings could lead to achieving bright whites by using less material, making it economically and environmentally friendly which could be impactful in the manufacturing of several goods including paper, paint, computer screens, and plastics.
By Daniel J. Steiger
This email address is being protected from spambots. You need JavaScript enabled to view it.
Follow us on Twitter - @DigiPrintNews
Like us on Facebook www.facebook.com/DPNLive - (click the 'LIKED' button/top of page as well)
Copyright © 2014, DPNLIVE – All Rights Reserved.