Antalis lends support to latest design-led

'Project Hangup' environmental campaign.
---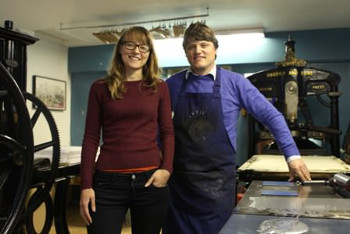 L - R Jacinta Sullivan, Project Hangup with David Borrington from Dekkle Printmaking Studio Conqueror Bamboo from Arjowiggins Creative Papers boosts awareness for endangered mountain gorillas.

---
Antalis UK has partnered with designer and illustrator Jacinta Sullivan in her latest environmental 'Project Hangup' aimed to promote caring for the environment and raise awareness of the plight of critically endangered species. This year's Project Hangup entitled 'Tragically, a Limited Edition' focuses on the dwindling numbers of mountain gorillas and the threat to their natural habitat.
Central to the campaign has been the design and production of a limited edition of 880 hand-crafted prints depicting a gorilla's face and reflecting the numbers of mountain gorillas left in the world. The prints have been hand carved on a linoleum plate and relief printed on to Conqueror Bamboo natural white 350gsm paper supplied by Antalis.
Manufactured in the UK by Arjowiggins Creative Papers, Conqueror Bamboo is one of the latest additions to the Conqueror range of creative papers. The substrate is made using responsibly sourced, fast-growing renewable Bamboo and FSC wood pulp giving a natural, luxurious and textural finish to the limited edition prints.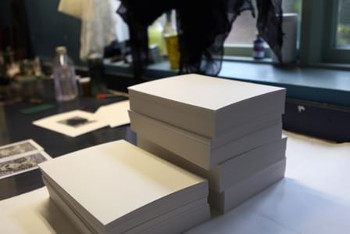 Project Hangup Antalis Conqueror Bamboo Paper Commenting on the company's ongoing support for the project, Emma Linley, Creative Papers Product Manager at Antalis said, "This is the second year that we have supported Jacinta with Project Hangup, a campaign that shares our own commitment to the environment and our ongoing drive to source and supply environmentally responsible products, of which Conqueror Bamboo is just one example."
Using high quality vegetable oil-based inks, the prints were individually produced on a hand operated 1878 Albion press at Dekkle Printmaking Studio, a specialist in traditional printmaking methods based in Hertfordshire. The ink was applied to the raised surface of the carved plate, which was then overlaid by a sheet of the Conqueror Bamboo paper to create an impression as it is fed through the press. This process, undertaken by David Borrington at Dekkle Printmaking Studio was repeated twice for two or more coloured prints, resulting in 1760 hand-operated pressings.
A quantity of 220 of these prints have been produced using gold ink, to highlight the fight against oil exploration within Africa's oldest National Park, Virunga, a World Heritage site and home to a quarter of the world's remaining mountain gorillas.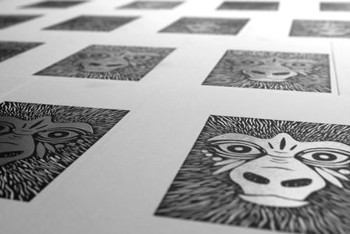 Project Hangup "It's wonderful to be collaborating with Antalis once again. Their support and beautiful Conqueror Bamboo paper has helped us to action an environmental cause, which represents precious lives, through precious pieces of art," explained Jacinta Sullivan, Founder and concept designer for Project Hangup.
"In an age dominated by social and digital media, it's a joy to work with like-minded people on tactile projects that have longevity, such as this one. The Conqueror Bamboo, with its environmental credentials and its luxurious feel was the perfect paper for our limited edition and has undoubtedly added to the overall impact and finish of the prints."
A special exhibition of 'Tragically, a Limited Edition' including a display of the fine art prints will be on show from 12th to 15th June 2014 (private viewing, evening of the 12th) in the viewing gallery at the offices of Major Players, 73-75 Endell Street, London, WC2H 9AJ.
To obtain your VIP ticket to attend the private viewing of the exhibition, please contact Cerys Traylor on This email address is being protected from spambots. You need JavaScript enabled to view it..
For more information on the plight of the Mountain Gorillas, visit www.projecthangup.com and www.support.wwf.org.uk/adopt-a-gorilla and for further information on the paper range visit www.antalis.co.uk.
Issued by AD Communications on behalf of Antalis
Follow us on Twitter - @DigiPrintNews
Like us on Facebook www.facebook.com/DPNLive - (click the 'LIKED' button/top of page as well)