Is global warming causing tropical activity to increase?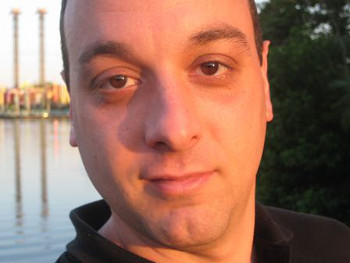 Daniel Steiger - the look of a curious mindIt was pure luck that I was able to catch a flight out of JFK International airport on November 1, 2012. Hurricane Sandy struck the New York City area several days earlier causing havoc throughout the city. My fiancée and I had booked this flight well in advance for a week long trip, so it wasn't a need to flee the storm that caused us to leave.
In fact, our situation was not too bad considering many people lost their homes and livelihood. We live on the North Shore of Long Island where the geography is very hilly. While the wind gusts were among the strongest in the area, flooding was a non-issue. JFK reopened on Nov 1 and we were among the first flights to leave the airport, again, lucky. It wasn't until the plane lifted off that I completely grasped the severity of the situation. A sea of blackness surrounded the city with the only lights visible coming from emergency vehicles (especially in Long Beach, NY, and New Jersey). The damage from the storm was widespread, causing thousands of homes and hundreds of thousands of vehicles to be destroyed.
Even though I witnessed a storm like Sandy firsthand, I still could not fathom what it must have been to experience Typhoon Haiyan which struck the Philippines last week. Reports say the storm had sustained winds of 315 Km/h (195 mph) which would make it the fourth most intense storm ever observed and the strongest to make landfall. Over 2,000 people have been killed by the Typhoon and millions have felt the effects. Roads have been damaged so much that aid can not reach many areas in desperate need of urgent assistance.
Debate always heats up whenever storms like Haiyan or Sandy occur. Are storms getting stronger? Is the frequency of major storms increasing? What is causing these storms to form? Is it Global worming? When you look at data from the North Atlantic Ocean, the frequency of storms has increased since 1995, with severe storms occurring more frequently. Obviously global warming is causing and increase in tropical cyclone activity and stronger storms right? While activity in the North Atlantic region may be increasing, it only accounts for a small percentage of total tropical activity on average.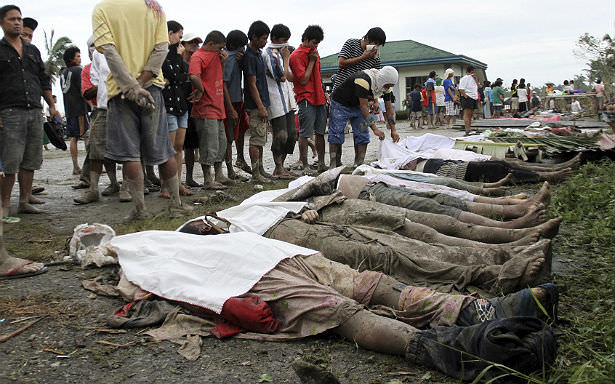 phillipinesAccording to Dr. Ryan Maue, a Meteorology Professor at Florida State University, cyclone activity is actually at a 33 year low, reaching near record lows in recent years. Even with a record storm like Haiyan, Western Pacific numbers are trending down (although the region averages 27 named storms and this year has seen 29). While the data shows the overall number of storms decreasing, it certainly seems like "record" storms are becoming more commonplace. However, it seems that the number of category 4 and 5 hurricanes may not be increasing at all. The general consensus seems to be that there may be a slight increase in severe storms but more research is needed (some have claimed a 50% - 80% increase).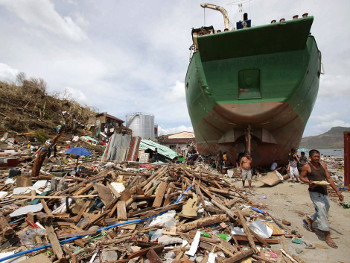 philippinesIt is easy to hear the above data and claim that scientists have it all wrong and that global warming is causing tropical cyclone activity to decrease. While storm frequency has gone down, all ocean basin regions except the Western North Pacific have shown their strongest storms on record in the past 20 years and several others that are close to it. Most climatologists agree on the fact that average global temperatures have risen in the past three decades and as a result, are making oceans warmer. A warmer ocean means more potential fuel for storms. The science logically points to more frequent and stronger cyclones. Forecasting these storms has shown to be unpredictable as shown by the most recent season in the North Atlantic when an active season was predicted and only two hurricanes formed.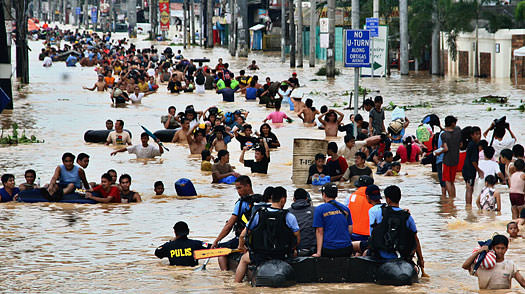 philippinesWhile the trend in cyclones may be downward, other extreme environmental effects have occurred. Many areas around the globe have experienced record droughts, floods, snowfall, tornado activity, and more. It is hard to deny that things are changing, but it seems that much of the response to these changes focused on why they are happening rather than how to prepare for them. George Clooney was attacked by Fox News for linking Typhoon Haiyan to global warming. The aftermath of these storms is becoming increasingly costly and attacking people based on their beliefs does not remedy a hefty price tag. Rather than debating if these storms are getting stronger and why, how about we simply: Be prepared. Sandy was not even a hurricane when it struck New York/New Jersey, it was downgraded to a tropical storm, and it was still one of the costliest storms in U.S. history. What if it was a category 3 or higher? Would the cost of being prepared be greater than the cost of repairing the damage?
By Daniel Steiger
This email address is being protected from spambots. You need JavaScript enabled to view it." mce_' + path + '\'' + prefix + ':' + addy85864 + '\'>'+addy_text85864+'<\/a>'; //-->
Follow us on Twitter - @DigiPrintNews
Like us on Facebook www.facebook.com/DPNLive - (click the 'LIKED' button/top of page as well)
Copyright © 2013, DPNLIVE – All Rights Reserved.