Recent activity at Yellowstone National Park

has people wondering.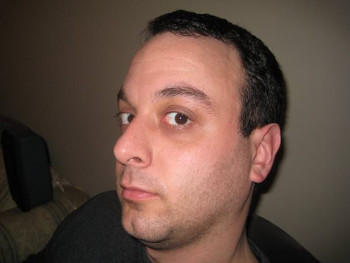 the look of a curious mindI saw a video recently that really piqued my interest. It was posted on a science themed feed called I F*****g Love Science. As the owners of the feed say, we are here for the lighter side of science, often posting quotes and facts with a humorous point of view. Many times, there are facts that are quite insightful and interesting.
When I saw a video questioning why a herd of American Bison were running down a road and passing cars along the way, I had to take notice. This video has apparently been going viral around the internet and you maybe have seen it. The spike in popularity of this video is not because these Bison are running down a road; it's what they were running away from: Yellowstone National Park. Normally, this type of activity does not attract attention but the park recently experienced its largest earthquake in 34 years. A quake registering 4.8 on the Richter scale struck the park on March 30, 2014. After the video of the Bison surfaced, a question was raised, is Yellowstone about to erupt?

With Ulysses S. Grant signing The Act of Declaration on March 1 1871, Yellowstone became the world's first national park. The area measures 3472 square miles or 8987 square kilometers, most of which is in the state of Wyoming and also stretches into Montana and Idaho. It is larger than the states of Rhode Island and Delaware combined. More than half of the world's geothermal features reside in Yellowstone including over 500 geysers. The highlight of these is the famous Old Faithful which erupts every 91 minutes. Other features include steam vents, mud pots, hot springs, and a mud volcano. The cause behind these features is a giant magma chamber that sits below the park. The chamber measures 34 x 44 miles (55 x 72 Km) and is called a hotspot. As the landmass passes over a hotspot, magma slowly oozes toward the surface (Like the Hawaiian islands). Yellowstone's geothermal features are evident of this oozing.

The caldera underneath Yellowstone National Park classifies it as a supervolcano. A supervolcano is defined as a volcano capable of ejecting a volume greater the 1000 Km³. Scientists know that eruptions at Yellowstone have occurred many times but they do not really know the exact number. These eruptions have varied in size with evidence of three super eruptions: The Huckleberry Ridge eruption 2.1 million years ago, the Mesa Falls eruption 1.3 million years ago, and the Lave Creek Tuff 640,000 years ago. The Huckleberry Ridge eruption was the largest known eruption at Yellowstone and second largest worldwide with an eruption volume of 2500 Km³.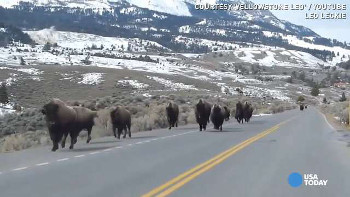 bison Scientists believe Yellowstone will erupt again and many believe it is overdue. What would happen if an eruption occurred at the park? Potentially, enough ash could eject from the volcano to cover the entire United States and half the country would be covered in several inches of it. Eruptions of this size would also obliterate all life for hundreds of miles and have an effect on global climate for many years or even decades. Farming and Agriculture in the U.S. would be destroyed, waterways would be severely polluted, and cites would be a sloppy mess. Stephen Self, director of the Volcano Dynamics Group at the Open University in the U.K believes that a nationwide food crisis would occur with many people perishing.

Despite a 4.8 earthquake and bison fleeing the park, geologists and volcanologists all agree that there is no evidence of an imminent eruption at Yellowstone National Park. Actually, many believe that a super eruption event is unlikely for hundreds or even thousands of years. The National Park service states that evidence of a super eruption would occur over months or years. The 4.8 earthquake is not much of a concern to park scientists because constant geothermal activity causes between 500-1000 earthquakes every year in Yellowstone. A large eruption would cause many severe earthquakes over a period of weeks and months due to a massive amount of magma moving toward the earth's surface. Lava would flow for years before an eruption as well. There would be plenty of time for evacuation before the massive event.

So a large scale eruption at Yellowstone sounds like something out of a Hollywood disaster movie. It would be a global event but we can only speculate how much of an impact it would have. Scientists constantly reassure and educate people that such an event will not occur but that will not be enough to stop speculation. What about the bison? Park scientists say that the animals are simply in search of food and will eventually return to the park.

By Daniel J. Steiger
This email address is being protected from spambots. You need JavaScript enabled to view it." mce_' + path + '\'' + prefix + ':' + addy94703 + '\'>'+addy_text94703+'<\/a>'; //-->

Follow us on Twitter - @DigiPrintNews
Like us on Facebook www.facebook.com/DPNLive - (click the 'LIKED' button/top of page as well)
Copyright © 2014, DPNLIVE – All Rights Reserved.