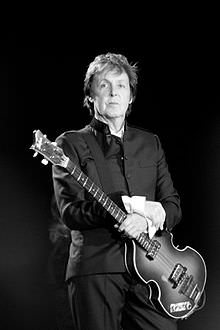 Paul_McCartney"New paulmccartney.com portal provides access to music legend's personal collection of songs, images, lyrics and more"
HP has announced that music fans now have unprecedented access to Paul McCartney's new portal destination, www.paulmccartney.com, which hosts the musician's vast digital library of music, lyrics, photos, collections, merchandise, blogs and more.
In the past year, HP and Paul McCartney's MPL Communications have collaborated to design, deploy and maintain a private cloud-based digital library that catalogues and stores more than a million items over five decades from the musician's expansive personal collection. Until now it had provided internal access only to MPL Communications.
McCartney's new dynamic portal was built by HP and MPL Communications so fans can view precisely what they want in a variety of ways. For example, it allows individuals to search a particular album and find not only the songs, but also access additional information associated with the songs, including lyrics, photography and videos.
McCartney said: "The idea is to intrigue people and bring them into our world with new facts, new photographs, news of what's happening, accounts of what happened, backstage moments and all the stuff we can give that nobody else can. The website really brings the digital library to life by constantly pulling new content from my personal collection so there's always a new experience for visitors."
The digital library was built on an HP Converged Infrastructure – using servers, storage, networking and software – to seamlessly integrate the digital library and website.
HP said the technology allowed MPL Communications the flexibility to easily retrieve assets for public use via the underlying digital library. This has also given fans the opportunity to select items customised for on-demand viewing.
McCartney's new website also features a unique online music player – The Jukebox. Fans can use this to listen to songs and build their own personal playlists with music pulled from the digital library. Access to historical information from a selection of McCartney songs or albums is also now just the click of a link.
"Fans expect a richer and deeper experience than ever before," said Jan Zadak, executive vice president, Global Sales, HP. "Our work with MPL Communications, Ltd. showcases the integral role that technology plays in driving the success of an Instant-On music organisation, by redefining the fan experience."
But there is more to Paul McCartney's new digital library than just providing access to the music legend's personal collection. HP Information Optimization Solutions provides MPL Communications with the ability to extract business insight from data. The solutions offer a view into fan preferences, traffic trends and buying patterns on the website, an invaluable tool to develop additional business revenue.
Information about MPL Communications, Ltd. is available at www.hp.com/go/mccartney.
Copyright © 2011, DPNLIVE – All Rights Reserved