Konica Minolta unveils 'gamechanging' inkjet textile single-pass printer.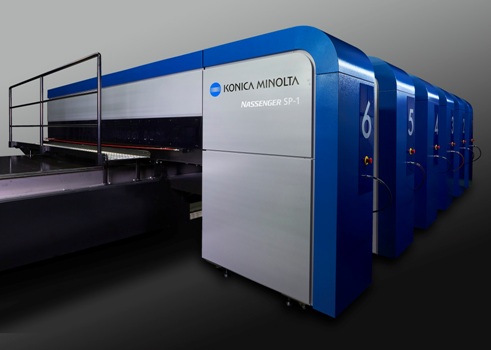 Konica Minolta's 'gamechanger'
Konica Minolta launched what it terms as 'gamechanging digital technology' during the recent international machinery exhibition ITMA in Milan, Italy, that includes a flagship inkjet textile single-pass printer.
Called NASSENGER SP-1, the ultra high-speed digital textile printer has become a reality through Konica Minolta's well known expertise in developing and producing all printheads, printing mechanisms and inks for inkjet textile printers.
The model was launched in response to the increasing use of digital on-demand printing for textiles where reducing downtime between jobs has become critical. Another factor, added the company, has been greater environmental awareness to reduce effluent and the use of fuels.
Printing in the single-pass system is straight on to fabric that is fed under a fixed print unit at the speed of a screen printing machine.
NASSENGER SP-1 technology was showcased on Konica Minolta's Stand at ITMA from 13-19 November. Guests and customers were also transported to its newly-opened €5million Demo and Training Centre in Bregnano, near Milan, for live demonstrations of the printer.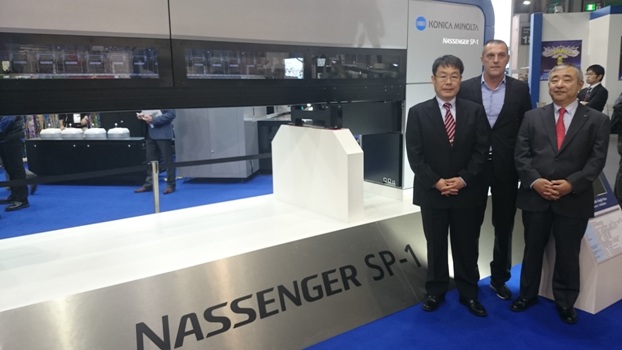 From to R Katsuaki Komatsu, President of Konica Minolta Inkjet Division; Enrico Verga and Akiyoshi Ohno At the exhibition, Konica Minolta had the world's first showing of two new scan-type high- and medium-speed inkjet textile systems, NASSENGER 10 NASSENGER 8. These were developed to extend its line up of high-resolution, high productivity inkjet textile printers and give customers a wider range of options to best suit their business needs.
The high-productivity NASSENGER 10 has a print speed of 580 m2/h that can replace a conventional flat screen printing machine, said Konica Minolta. NASSENGER 8 meets a variety of medium-volume printing needs ranging from sample printing to low-volume printing. With a print speed of 240 m2/h, this model is being billed an 'ideal successor' to a conventional inkjet textile printer.
Both systems have various printing modes ranging from high productivity to high image quality through to high density / high colour penetration mode. They are equipped with newly-developed inkjet printheads, which is also used in the NASSENGER SP-1.
With its brand proposition, 'Giving Shape to Ideas', it appears Konica Minolta remains firmly committed to innovations in the manufacturing process within the textile market by offering higher-performance, environmentally friendly products, and to helping customers enhance their corporate value, while joining the global effort to reduce environmental threats.
Akiyoshi Ohno, Konica Minolta Inkjet Division former President and now Senior Adviser, said:
"In the global textile market, there are ever-increasing demands for low-volume high-mix production to cope with shorter lead times, improved print quality, saving resources and environmental considerations.

"Reducing downtime is critical. Our new systems do this and open up huge new opportunities for customers, who share our belief that this is gamechanging technology. As an example, while screen printing machines with print speeds of 2000-3000 sq m / hour are used for high-volume printing in most cases, users of these machines are now calling for inkjet textile printers with the print speed of screen printing machines. NASSENGER SP-1 was developed to meet the needs of these users in the fast-emerging market of textile printing."
Enrico Verga, Chief Operating Officer for Konica Minolta IJ Textile Europe, commented: "Visitors to our new innovation centre were amazed at the performance capabilities of our new NASSENGER systems, and the show visitors were similarly impressed."
YouTube link – Akiyoshi Ohno and his singing interpretation of Petula Clark's global hit song 'Downtown' which was a 'hit' at the press conference.
You can Tweet, Like us on Facebook, Share, Google+, Pinit, print and email from the top of this article.
Copyright © 2015, DPNLIVE – All Rights Reserved.