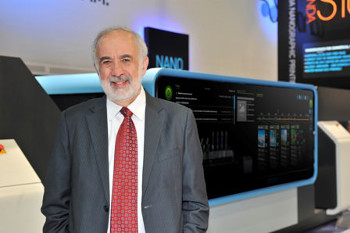 Benny Landa
Landa Corporation has announced details of its Nanographic Printing Presses that it hopes will transform mainstream commercial, packaging and publishing markets. The company is launching six presses – three sheetfed and three web presses – at drupa 2012 that the company says will enable print providers to produce short-to-medium run lengths at unmatched cost-per-page.
Landa Founder, Chairman and CEO Benny Landa says, "Nanography™ is a new technology for applying ink to paper. In developing this technology we had to re-think and reinvent the printing press. The result is digital printing with remarkable performance – from a family of presses that share stunning ergonomic design, a small footprint and some of the most advanced user functionality available in the market."
The three sheetfed presses can print in up to eight colours and use spot and specialty colours for a range of applications including general commercial printing, marketing collaterals, medium-run books and manuals, direct mail and short-run folding cartons. The three web presses can print in up to eight colours and are aimed at commercial printing, publishing, labels, and flexible packaging:
"Landa Nanographic Printing Presses are intended not to replace offset printing, but to complement it. For the foreseeable future, offset printing will continue to be the preferred method for producing run lengths of tens of thousands or hundreds of thousands," says Benny Landa. "But the market is demanding shorter and shorter run lengths – and that's where Nanography comes in – to enable print service providers to produce those short-to-medium run lengths economically – at offset speeds. That's what we mean when we say that Landa Nanographic Printing brings digital to the mainstream."
The NanoInk colorants comprise pigment particles tens of nanometres in size which absorb light and enable high image quality. The process cuts out post drying allowing two-sided printing to be handled right away.
The design uses a touchscreen system where all the functions, such as ink levels, paper supply, and operational status, are clearly displayed. It's user-friendly and does not require a high degree of training for use. A single operator can manage two to three presses at a time.
Benny Landa will be hosting five daily theatre presentations in its stand at drupa entitled "Nano. Bigger Than You Think." On May 3rd, he will deliver the opening keynote address at the drupacube theatre in Hall 7, entitled "Print in the Digital Era: How I Learned to Stop Worrying and Love the iPad." In his address, Benny will share his insights about the printing industry, past, present and future.
Copyright © 2012, DPNLIVE – All Rights Reserved