Mimaki Stretches Wide Format Solutions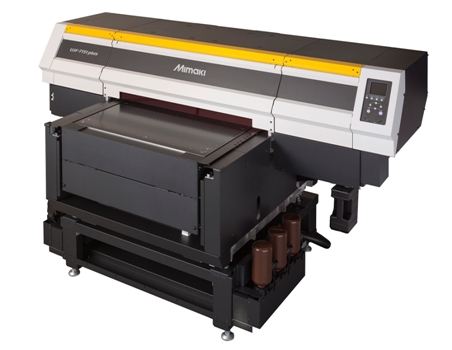 New LUS-350 UV ink is compatible with the Mimaki UJF-7151plus, direct-to-object production flatbed LED UV printer.A new, stretchable ink is on its way from Mimaki this summer. Suitable for a wide range of thermoforming applications, especially those requiring exceptional hardness and durability such as automotive parts, Mimaki LUS-350 ink is compatible with the Mimaki UJF-7151plus and JFX200-2513 printers and will be available in CMYK, white and a unique clear ink.
Up until now, objects had to be formed prior to the images being applied manually or by screen printing, a time-consuming and expensive process. The new ink has been developed to change the way vacuum moulded, or thermoformed applications are created, with its ability to bring the benefits of digital printing to this important market sector. In doing so, it addresses the ongoing need for fast turnaround, short-run moulded objects with excellent graphic quality.
Central to this new ink technology is the ability for thermoformed objects to be imaged before forming, using Mimaki digital printers running inks that will not crack or otherwise be damaged during the heat-based forming process and which are able to provide a beautiful finish for a wide range of applications such as car parts, mock-ups, moulded signs and more.
The details
Mimaki LUS-350 ink will stretch up to 350 per cent when heated to between 120 deg.C and 200 deg.C. And here comes the interesting bit. After cooling to room temperature, the ink's rigidity is restored, while securely adhering to the moulded product without cracking or peeling. These characteristics make the new ink unique in Mimaki's view, providing the necessary rigidity, durability and stretchability to serve a broad range of applications without any compromise in image quality. Images are initially printed on flat substrates using specialised imaging software and then formed into the desired shape using vacuum, thermoforming or other moulding techniques. Intricate textures and designs in fine decorative prints are retained even after moulding, with the additional benefit of being able to apply multiple layers of ink to create raised areas in the image for further enhancement, without having concerns about cracking or quality of adhesion.
Mimaki's LUS-350 clear ink has another advantage in the market, adding texture or a glossy finish that can't be achieved with coloured ink alone.
The forthcoming launch of the new ink is something Stuart Cole, National Sales Manager – Industrial Products for Mimaki's exclusive UK & Ireland distributor, Hybrid Services Ltd welcomes. "This is a very exciting development for Mimaki users in the industrial sector who need to produce items with greater creativity in a less time consuming manner and more cost effectively than previously. Yet again forward thinking technological development from Mimaki will provide end users with greater flexibility and the potential to create and develop an ever wider range of bespoke products," he said.
Full details on Mimaki's expansive product portfolio can be found at www.hybridservices.co.uk or by calling 0044 (0) 1270 501900.
You can Tweet, Like us on Facebook, Share, Google+, Pinit, print and email from the top of this article.
Copyright © 2016, DPNLIVE – All Rights Reserved.