New affordable, lightweight duplex scanner for on-the-go users.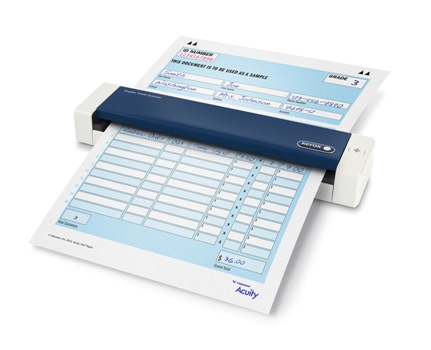 Xerox Duplex Travel Scanner with paper
A portable scanner which has the ability of scanning two-sided documents in one single pass has now been introduced by Xerox.
Bringing increased convenience and efficiency to mobile users, the new Xerox Duplex Travel Scanner, designed for use with Windows® and Mac® OS computers, allows continuous feeding of pages up to 216 x 813 mm for creating multi-page files of one and two-sided documents.
It weighs in at just 500g and features USB power for portable use with laptops and desktop PCs. The lightweight Duplex Travel Scanner is perfect for sharing searchable PDF documents, rendering image files in a variety of formats from photographs or other graphical printed material, and enhancing the scans of tattered or worn originals to produce remarkably clear and clean images. The maximum optical scan resolution is 600dpi and colour output depth is 24 bits.
"The Xerox Duplex Travel Scanner leads the highly successful Travel Scanner series with ease of use, upgraded features and a sleeker, sturdier design," said Walt Thinfen, president and CEO at Visioneer, which makes and markets Xerox DocuMate® Scanners. "With the inclusion of our popular software package, we've eliminated extra steps in scanning and the possibility of having to rescan. The Duplex Travel Scanner delivers high-quality scans, while also allowing users to organise and share their documents from virtually anywhere."
The new scanner has been designed for use in an office, home or mobile environment and accepts originals as small as 38mm wide. Maximum page width is 216mm and maximum page length is 813mm.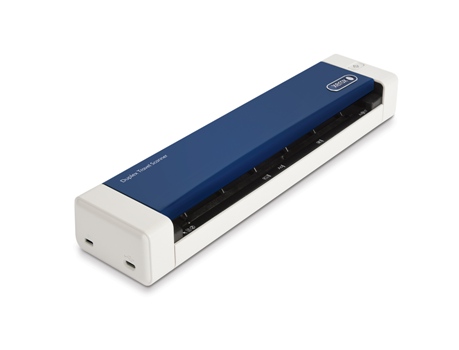 Xerox Duplex Travel Scanner with paper To facilitate fast setup for first-time use, the Xerox Duplex Travel Scanner is packaged with a Quick Install Guide. Its Windows productivity software bundle includes Visioneer OneTouch, Visioneer DriverPLUS, Visioneer Acuity, Nuance® PaperPort®, Nuance OmniPage® Pro, and Nuance PDF Converter. For Mac computers, software features include Mac TWAIN, incorporating many features of Visioneer Acuity, and Visioneer Scan Utility. Details on software features, as well as scanner specifications, are available at www.xeroxscanners.com.
The Xerox Duplex Travel Scanner is immediately available for purchase at online retailers or authorised resellers throughout North America, South America, Europe, Middle East and Africa. Model Number XTS-D and Xerox Part Number 100N03205. 
In addition to a software DVD, Quick Install Guide and USB cable, in-package accessories include a cloth carry bag, carrier sheet (for scanning fragile originals), calibration sheet, cleaning cloth and technical support card.
For additional information on Visioneer and Xerox scanning solutions, visit www.visioneer.com, www.visioneer.com/company/news or www.xeroxscanners.com.
You can Tweet, Like us on Facebook, Share, Google+, Pinit, print and email from the top of this article.
Copyright © 2016, DPNLIVE – All Rights Reserved.