HP expands production inkjet possibilities with

new priming solution and new inkjet web press.
---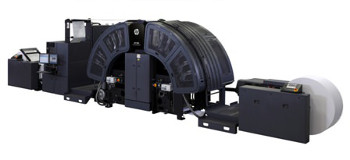 The first 66-cm-wide (26-inch-wide) HP Inkjet Web Press, the HP T260 offers an efficient imposition form factor for book production and fast speedsHP has introduced the HP Priming Solution, a response it hopes will enable HP Inkjet Web Press users to print on a wider range of media, including standard offset coated media which up till now was not compatible with production inkjet technology.
---
---
The coatings used in offset papers are designed to repel water, including water-based inks used in high-speed production inkjet environments. This results in print-quality defects such as coalescence and issues with drying the ink at production speeds. To address this issue, HP said its new priming solution will allow print service providers (PSPs) and book manufacturers to print on low-cost, coated offset stock without compromising print quality or productivity.
"Customers and prospects considering production inkjet equipment want to print on a wide variety of media," said Aurelio Maruggi, vice president and general manager, Inkjet High-speed Production Solutions, HP. "The new HP Priming Solution reinforces our strategy to offer choices to customers for expanded media options, while continually bringing to market new technology that helps our customers do more with their HP Inkjet Web Presses."
Details about the HP Priming Solution were introduced at an HP customer open house event held recently at O'Neil Data Systems in Dallas. Other announcements included:
The HP T260 Mono Inkjet Web Press, a new digital press with a compact footprint designed specifically to help publishers increase speed to market and print high quality black and white books in both large and small quantities.
Additions to the HP SmartStream Solutions Partner Program, enabling customers to take advantage of high productivity finishing options.
HP's intent to enter the growing packaging market with its inkjet web press solutions.
The new HP Priming Solution is all about expanding HP's media versatility in the production inkjet market. Available for the full HP Inkjet web press portfolio, the first HP Priming Solution offers a matte finish that which HP maintain can provide a cost-effective coated-media solution and help increase the crossover points vs. traditional offset in both publishing and commercial printing.
Components of the solution include an HP-developed, aqueous-based priming agent for HP A51 Inks, engineered to work with HP Inkjet Web Presses, and the Epic PrimeCoat priming system from Epic Products International, a specialist company involved in developing custom priming and coating solutions.
HP's media strategy also includes HP Bonding Agent for production on low-cost, uncoated offset papers, collaboration with leading paper mills on the development of inkjet optimised papers with ColorPRO technology, and the HP Media Certification Program for the identification of substrates compatible with HP high-speed production inkjet systems.
The new HP T260 Mono Inkjet Web Press announced prints on a wide range of media, boasting high-productivity and a low total operating cost in a compact size. The first 66-cm-wide (26-inch-wide) HP Inkjet Web Press, the HP T260 offers an efficient imposition form factor for book production and fast speeds—up to 244 metres (800 feet) per minute.
The HP T260 has a duty cycle of 123 million A4 sized (111 million mono landscape letter-sized or 87 million portrait letter-sized) and 211 million 152.6-mm by 228.6-mm (6-inch by 9-inch) equivalent images per month, again, aimed at extending the crossover point for analogue to digital printing.
Similar to existing HP Inkjet Web Presses, the HP T260 offers best-in-class print quality with 1,200 nozzles per inch (npi). It also features HP Bonding Agent and automation for operator ease of use.
Through the HP SmartStream Solutions Partner Program, PSPs can take advantage of a solution portfolio with leading finishing providers in the graphic arts industry.
Available exclusively for the HP T410, Magnum Digital Solutions has developed the FlexCut digital sheeter/stacker solution. The FlexCut, which will be sold directly by HP, offers automated make-ready and on-the-fly stack changes, among other features, giving customers the ability to produce 42-inch by 39.4-inch sheets at speeds up to 14,440 sheets per hour, an impressive figure, which if true, rivals offset capability.
New to the HP SmartStream Solutions Partner Program, VITS International offers high-speed, high-productivity finishing capability with its Sprint Variable Data Finishing System, which is engineered for inline or offline applications for digital presses. Eltex-Elektrostatik-GmbH offers a moisturiser that uses electrostatic dispensing technology to help with flatness in books and other printed products. Finally, KOLBUS offers a comprehensive range of softcover and hardcover bookbinding machines including flexible high-speed perfect binding solutions for digital printing.
Momentum of the HP Inkjet Web Press portfolio continues worldwide with a growing install base printing more than 3 billion pages per month worldwide claims HP.
O'Neil Data Systems, an early adopter of HP production inkjet technology, recently acquired an additional HP T410 Color Inkjet Web Presses as it continues to grow its business with HP. With its latest investment, O'Neil Data Systems now has a total of 10 HP Inkjet Web Presses—including six HP T410s, two HP T360s and two HP T230s.
"When you compare our business today vs. our business in 2008 when we were first discussing production inkjet technology with HP, it's a night and day difference," said Jim Lucanish, president, O'Neil Data Systems. "We have completely transformed our business and have grown exponentially as a result of our continued investment in HP Inkjet Web Presses, which allow us to fiercely compete in the data-driven communications market."
HP added that building on the innovation and business transformation delivered in the publishing, production mail and commercial print markets, it is also developing new HP Inkjet Web Press solutions configured for packaging that will help converters produce cost-effective short to medium runs and digital customisation, deliver faster turnaround times and reduce inventory. The company said it is working with leading packaging converters to validate the technology in terms of quality, flexibility and economics.
Availability
The HP Priming Solution and the T260 Mono Inkjet Web Press are expected to be available before the end of 2014.
Additional information about HP Inkjet Web Presses is available at www.hp.com/go/inkjetwebpress
Follow us on Twitter - @DigiPrintNews
Like us on Facebook www.facebook.com/DPNLive - (click the 'LIKED' button/top of page as well)
Copyright © 2014, DPNLIVE – All Rights Reserved.