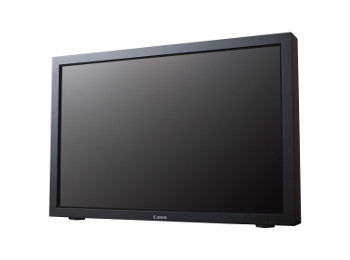 Canon 30 inch 4K resolution industrial video displayCanon exhibited a prototype of their new 30-inch 4K resolution industrial video display at NAB Show 2012, the world's largest international digital event for audio, video, film, broadcast and communications, in Las Vegas, Nevada this April.

The move is in line with the rapid adoption of digital cinema, where there has been a growing demand among Hollywood professionals and others in the vanguard of motion picture and video production for video displays capable of the accurate reproduction of high-image-quality, high-definition 4K video.

Canon is currently developing its 30-inch 4K resolution industrial display as a 4K video output device which it believes will deliver faithful colour reproduction and high-resolution, high-contrast performance

The video display will provide support for cinema and other video editing processes while also responding to film-production needs through Canon proprietary high-image-quality technology and reliability. While detailed specifications and pricing have yet to be decided, Canon aims to launch the display before the end of 2012.
---
By Martin O'Driscoll
Copyright © 2012, DPNLIVE – All Rights Reserved