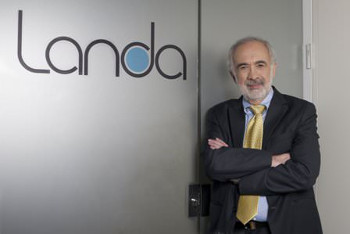 Benny LandaLanda Corporation plans to introduce its line-up of nanographic sheetfed and web presses at drupa 2012 (Hall 9, Stand A73-3).
The NanographyTM digital printing process has been billed as pioneering technology for mainstream commercial, packaging and publishing markets.
Led by Benny Landa, who started the digital printing revolution back in 1993 with the iconic Indigo digital press, the company is set to ignite a second digital revolution in print. Landa claims that Nanographic Printing Presses offer the versatility of digital with the qualities and speed of offset printing — at unmatched cost-per-page.
"It's good to be back," says Landa, chairman and chief executive. "The Landa Nanographic PrintingTM process is the result of 10 years of nanotechnology research. It is a true breakthrough that enables our presses to achieve amazing results."
Key to the Nanographic Printing process is Landa NanoInkTM, which is composed of pigment particles only 10s of nanometres in size (equal to a billionth of a metre), these nano-pigments are extremely powerful absorbers of light and can achieve high-quality images. Landa Nanographic Printing is characterised by ultra-sharp dots of high uniformity, high gloss fidelity and the broadest CMYK colour gamut of any printing process.
The company says the Landa Nanographic Printing process creates images that are abrasion and scratch resistant.  The technology means that it can print on any off-the-shelf substrate, from coated and uncoated paper stocks to recycled carton; from newsprint to plastic packaging films – without pre-treatment or special coating – and no post-drying. On top of this, nanographic images are only 500 nanometres thick – about half the thickness of offset images. Landa says this enables its Landa NanoInkTM to produce the lowest cost-per-page digital images in the industry all from a water-based, energy-efficient and eco-friendly process.
Landa Nanographic Printing Presses employ ink ejectors to create the digital ink images applied to printing stock in a process that can operate at high speeds. Each Landa press, which has a small footprint even when compared to other digital presses, can print in up to eight colours and operate at 600 dpi or 1200 dpi resolution.
"Nanography is a truly ground-breaking development," Landa stated. "At drupa, we will be unveiling a complete family of sheetfed and web presses. These include B3, B2 and B1 sheetfed perfecting presses which operate at up to 11,000 sheets per hour for commercial and packaging printing as well as web presses for publishing and flexible packaging that range in width from 52cm to 104cm and operate at up to 200m per minute. Such performance places Landa Nanographic Printing presses squarely in the heart of mainstream commercial printing. For the first time, commercial printers don't have to choose between the versatility and short-run economics of digital printing and the low cost-per-page and high productivity of offset printing. Now they can have both."
The Landa family of six Nanographic Printing presses focus on commercial printers and packaging converters for applications that include general commercial printing, books, magazines, direct mail, labels, folding carton and flexible packaging for food, pharmaceuticals, cosmetics and more.
A special feature of the Landa 1,400sq m stand at drupa 2012 is a 300-seat auditorium. Here Benny Landa will personally host each of the company's five daily theatre presentations entitled: Nano. Bigger Than You Think. The aim is to give the audience an inside tour of nanography technology, its products along with an insight into the industry's future.
About Landa
Landa Corporation was founded by Benny Landa in 2002 following Hewlett-Packard's acquisition of Indigo, which Landa had founded 25 years earlier. It has four operating units: Landa Digital Printing, which develops Nanographic PrintingTM systems for the commercial, packaging and publishing markets; Landa Labs, which develops alternative energy technology as well as nano-materials for applications ranging from pigments and drug delivery to hair colorants and composite materials; Landa Ventures, which invests in promising technology companies in fields related to nanotechnology, imaging, printing and energy; and Landa Fund, a philanthropic entity dedicated to the narrowing of socioeconomic gaps in society by enabling youth of "privileged minds and underprivileged means" to achieve higher education. To date, the Landa Fund has enabled thousands of underprivileged youth to acquire university degrees.
For more information, visit
http://www.facebook.com/landanano.
Copyright © 2012, DPNLIVE – All Rights Reserved