CMYUK's UTACK material installed by Hollywood Monster creates the 'wow factor' for Morris & Company's property launch with Caprice.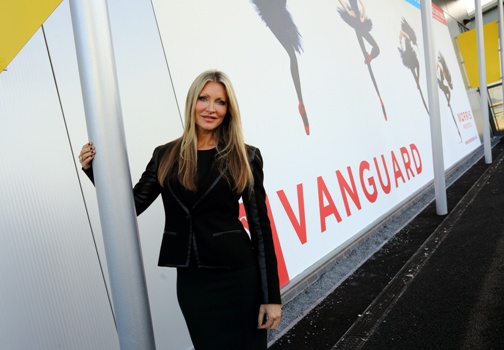 Supermodel-turned-businesswoman Caprice at the Morris & Company launch, with graphics from Hollywood Monster, produced using CMYUK's UTACK Multisurface wallpaperSpecialist wide format print and consumables provider CMYUK and client Hollywood Monster recently teamed up to create a huge promotional graphic. The purpose was to help national commercial property developer Morris & Company launch the latest phase of its Vanguard trade park site in Shrewsbury, UK.
Robin East, CMYUK Director explained: "Morris & Company approached us to ask the best way of creating a stunning temporary graphic to cover the outside of their new units.
"We introduced them to our customer Hollywood Monster, as we knew they had the skills and the kit to deliver a display that reflected the high end specification of the commercial units on offer."
Hollywood Monster printed the 5m x 17m graphic with its VUTEk GS3250 printer using CMYUK's UTACK Multi-surface repositionable and removable textile material, on 25m x 1220mm wide strips that were then mounted directly onto the building's cladding.
Simon McKenzie of Hollywood Monster said:
"We knew that as a temporary graphic the installation needed to be removable without causing any damage, which made the UTACK media the perfect answer. The adhesive is strong enough for even an outside installation like this one, but when removed it leaves the surface intact with no residue."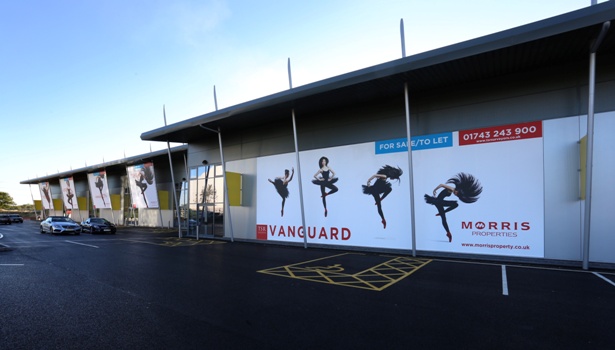 The promotional graphics created by Hollywood Monster using CMYUK's UTACK Multisurface Wallpaper Kate Watkins from Morris & Company added: "Vanguard Trade Park in Shrewsbury is one of our most successful developments in the Midlands, attracting respected national brands and business start-ups. Our campaign had to support this established brand profile as well as promote the commercial messages of the new phase of trade counter units as being versatile and flexible spaces combined with contemporary and quality design.
"We wanted to step change the traditional For Sale property boards and bring high impact visuals with edgy design to the development. The hoardings had to communicate the core values and USPs, as well as be visible from the main thoroughfare. This campaign needed the wow factor!

"The solution advised by CMYUK to work with Hollywood Monster was certainly the right option for us. The level of service, speed and accuracy to which they delivered the end product was nothing short of exemplary. The boards offer complete visual impact and the quality of the print gives clarity and vibrancy to the designs."

With the promotional graphics produced by Hollywood Monster are, from left, Robin Morris of Morris & Company, supermodel-turned-businesswoman Caprice and Robin East, Director at CMYUK East continued: "It's our aim at CMYUK to look for complete solutions for our customers, and the graphics produced by Hollywood Monster really were the business – not just raising awareness of the units' availability but showing how easy it is to make stunning temporary graphics that have a real impact."
He spoke to potential buyers about local opportunities at the launch event, which also featured Caprice Bourret talking about her move from supermodel to business leader.
For more information on CMYUK and the UTACK media range, go to www.cmyuk.com. For more information on Hollywood Monster, go to www.hollywoodmonster.co.uk.
You can Tweet, Like us on Facebook, Share, Google+, Pinit, print and email from the top of this article.
Copyright © 2015, DPNLIVE – All Rights Reserved.