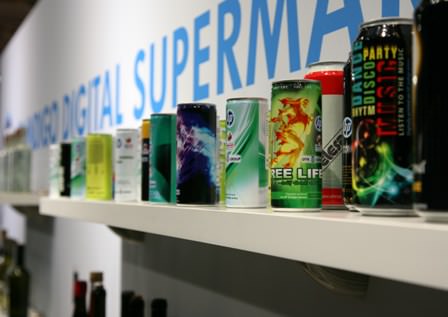 The HP Indigo 'Digital Supermarket'
To sell these days, innovation is key and HP has shown this aptitude again: it plans to transform its stand at PackTech 2012 (NEC, Birmingham, February 29th-March 1st, stand G19) into a "digital supermarket" showcasing hundreds of consumer items with digitally printed labels and packaging.
The HP Indigo digital supermarket features a range of products to show how brands can exploit the creative opportunities and production benefits of HP Indigo digital printing to produce innovative packaging solutions.
"The products that will be on display are stimulating examples of how HP Indigo customers can help brands produce packaging that grabs the consumer's attention", said Julia Cole, UK & Ireland marketing manager, HP Indigo. "It's not only down to the vibrant print quality that can be achieved but also about its creative marketing features too. For example, the HP digital supermarket will include items that have been personalised with consumers' images and messages, uploaded via brand websites, printed with HP Indigo presses and delivered to the consumer – a powerful and effective marketing strategy made possible and affordable by HP Indigo technology."
The supermarket wares are examples of personalisation and other cutting-edge digital printing techniques. The idea is to demonstrate how HP Indigo is enabling a new and dynamic relationship between its customers and major brands with cutting-edge HP digital technology, efficient supply chains and affordable, profitable, cost models. The company says that personalisation, coding and marking and short-run production are all benefits of HP digital printing that can be leveraged to add value and meet today's marketing trends.
The digital supermarket will be filled with everything from wine bottles, health and beauty, pharmaceutical and other typical household products printed by HP customers on the HP Indigo WS6600, WS4600 and WS6000 Digital Presses. HP really wants to show off what Indigo presses can offer label converters: a powerful combination of productivity, versatility and flexibility. For example, the exclusive HP Indigo White Ink option allows customers to print on a larger variety of specialised substrates, such as transparent, metallic and coloured media, enabling label converters to deliver a wider range of unique applications.
But the real beauty for this category lies in the fact that HP Indigo digital printing technology enables them to print short runs cost-effectively, allowing them to meet a growing demand for smaller, more frequent orders driven by a need for businesses to reduce inventory costs.
Find out more about HP Indigo technology at the Packtech and Print Innovations Learnshop:
PACKTECH 2012
http://www.easyfairs.com/events_216/packaging-innovations2012_20111/packtech-2012_20205/
LearnShop
More information is available at www.youtube.com/hpgraphicarts or follow HP on www.twitter.com/hpgraphicarts.
Copyright © 2011, DPNLIVE – All Rights Reserved