---
The Spanish photographic company, Wemories has launched an innovative web-to-print photo service to create distinctive 'memory' style products printed on HP Indigo presses.
---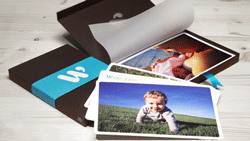 Wemories' first product is a branded box, containing customers prints and memoriesWemories' first product is a distinctive branded box, secured with a ribbon, containing from one to twelve 22 x 14.6 cm (5.8 x 8.7in) prints on matt finish fine art paper. On the reverse of each print, customers have the opportunity to add a short text describing the image, their feelings, and the date.
At present, the website is only available in Spanish and English and orders for all European regions are being fulfilled by Artes Gráficas Palermo. The company prints with a hexachrome process using standard CMYK plus special light cyan and light magenta inks. According to Wemories, this process gives an enhanced gamut over standard 4-colour printing and adds richness to photographs, not usually offered by online photo services.
Cesc Vilanova, who, with Fernando Rodrígies Martínez, founded Wemories, said that the company was more than just a premium photo service.
"We want to create a brand around memories," he explained. "We realised that because of digital cameras, there is a huge number of photographs generated every day. In social networks, there is a constant mix between pictures of lasting value and those of not very long-term relevance.
"So, we have built a special purpose private social network where users can upload their relevant pictures and content and then share them with their loved ones.
Martínez explained further about process.
"There is extremely tight quality control in all the production steps to ensure perfect quality in the Wemory Box," he said. "The production process is managed by highly skilled graphic arts operators and Wemory Boxes are handcrafted in a semi-industrial process. In our opinion, that is a clear differentiation with industrial photo printers that have fully automated systems."
"At present, the Wemory Box is our single, launch product," continued Vilanova. "Artes Gráficas Palermo is our sole fulfilment partner. We were aware of its reputation for quality and working with a print service provider who used HP Indigo presses was part of our strategy for ensuring optimal quality.
"Through our work so far, we have seen sales increase steadily in double-digit percentages. We anticipate that growth will continue as we expand into new products and regions."
Digital collaboration
Artes Gráficas Palermo works with all kinds of customers and has a well earned reputation for quality. The team at Artes Gráficas Palermo was impressed with the idea of building a brand and a service around memories.
"We became part of the Wemories project when they came to talk about the idea," said Miguel Angel Esteban, prepress and digital printing manager, Artes Gráficas Palermo. "We found the idea beautiful and since the project matched our corporate culture, we wanted to help them make it happen."
The other added-value aspect of Wemories is that it enables the storage and sharing of pictures online. This can be restricted to close family and friends or opened up for wider sharing. Pictures are organised in a time line so that events and pictures can be found in sequence, even after many years.
"The Wemory Box is a time capsule," concluded Vilanova. "The quality of the box and the pictures help to preserve the impact of the memories. And that's what we do - we deal with memories, not just pictures."
About Wemories
Fernando Rodrígiez Martínez and Cesc Vilanova founded Wemories after one of their grandmothers found a dusty cardboard box in the attic that had not been opened for years. She opened it and discovered letters and pictures that had not been seen for years. She remarked to her grandson, "These days with the Internet, you can't do this". The seed was planted and the two men started working to find a solution to that problem; Wemories was born.
About Artes Gráficas Palermo
Based in Madrid, Artes Gráficas Palermo specialises in printing art books and catalogues: painting, architecture, photography, design, commercial publishing, etc. The company carries out design, prepress, offset litho and digital printing, finishing and book production.
More information is available at www.youtube.com/hpgraphicarts
Copyright © 2012, DPNLIVE – All Rights Reserved