For high quality publishing market producing over two million magazine pages per 8-hour shift.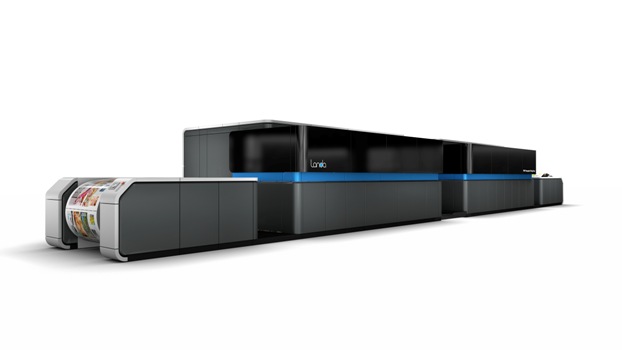 Landa W10P
Landa has released details about its new Landa W10P Nanographic Printing® Press. The press, developed for high quality publishing applications such as magazines, journals, catalogues and direct mail, is a meter-wide (41 in.) two-sided web press with twin printing engines, each with 4-8 colours.
It prints on virtually any coated or uncoated paper stock, ranging in weight from 30 gsm up to cardstock. Nanographic Printing creates zero strikethrough, so the result is that the press produces magazine-quality printing even on the lightest – and cheapest – uncoated papers. Running at 200 meters/minute, it can print over two million magazine pages per 8-hour shift.
"Fourteen years of nanotechnology research has enabled us to make tremendous breakthroughs in the quality, speed and cost of digital printing. The Landa W10P Nanographic Printing® Press is up to 24 times faster than any other commercial quality digital press and can print more than two million magazine pages in a single 8-hour shift," said Landa Chairman, Benny Landa. "The Landa W10P is a technology platform that will help drive business growth and publisher profitability."
Nanography® has been developed to help customers move their mainstream journal and magazine publishing, catalogues and direct mail pages from offset to digital, with a promise of reduced total cost of ownership (TCO) and improved margins. Magazine and journal publishers can leverage the technology's benefits to offer more versatile products and attractive business models. The Landa W10P press will start shipping to customers in late 2017 and is not being shown at Drupa 2016.
Landa will conduct live demonstrations of its sheetfed and webfed Nanographic Printing® Presses during the exhibition, including the Landa S10 for folding carton and POP, the Landa S10P perfecting press for commercial printing and the Landa W10 for flexible packaging. The company will also be demonstrating its newest technology, Nano-Metallography®, a zero-waste metallization process that is said to halve the cost of metallized printing.
Landa is also holding theatre presentations five times a day for the entire duration of the Drupa show.
Reservations for the show can be made at kiosks on the Landa stand (Hall 9) during the exhibition.
You can Tweet, Like us on Facebook, Share, Google+, Pinit, print and email from the top of this article.
Copyright © 2016, DPNLIVE – All Rights Reserved.