Funny how time flies

Written by Ellen Neumann
Sullivan County, New York
8th December 201
---
One moment, we are kids without a care in the world. "Will a certain boy ever fall in love with me?" or "I wonder if my mom will let me wear makeup yet", our only worries.  Time passes so slowly, friends come and go, school never seems to end; can't wait to drive, smoke, marry, work or move out. Can't wait! Parents are incredibly invincible, towers of power. Summers are full of amazing adventure and excitement, ever-loving grandparents on the farm and strawberry ice cream. No clocks, no shoes, not a care in the world!  The light of day shines into the night. Youth is our drug of choice; endless energy is our cocktail. Time is our friend, our mentor, our security.
A few years ago I was a guest, a family reunion of sorts. My aunt [wife of my father's brother] was honoured with a party for her 75th birthday. My mother, sisters, brother, daughter, grandchildren and I all attended. I have nine cousins on my father's side of the family; none on my mother's. We are scattered to the wind, living from shore to shore with most of us in between. I have not seen many of my cousins in five, ten, OH MY! Some of them not for twenty years! I looked forward to the day but anticipated nothing special. I was pleasantly mistaken.
I found MYSELF in the faces of these precious cousins. I had forgotten what it was like to see faces that so closely mirrored my own. Not that we all look exactly alike for we don't. Yet there is something; a common factor about our "look", our mannerism, our essence. Some more than others; some less, though definitely present in us all; the common thread of physical kinship is evident.  A secure feeling; knowing that we "belong" to a common unit of humanity, regardless of the many years that have separated us, we are miraculously one. The sameness of a shared surname, the common tears shed for loved ones now dead, the pride in family, OUR family, all of us.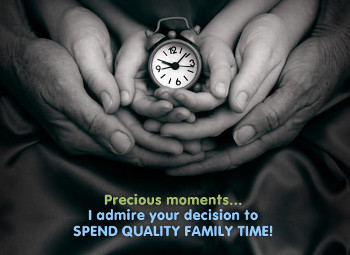 We were all happy that day; so happy; genuinely HAPPY to be together, to talk, [though awkward for some of us at first]; to laugh together, hug and kiss; to embrace each other over and then over again. The day was sweet, warm, slow and wonderful. Like the long ago summer, the day would last forever it seemed, magical, a moment in time. We basked in our common love for family, for each other, for those gone before us and those yet to come.
Finally came the time for us to part: I lingered. I did not want this day to end.   I wanted to cling to that feeling of blessed peace; the miraculous healing of my heart. I wanted to freeze that feeling, not let it escape into the coming night. An extra kiss, a tighter hug and a promise of more times such as this were repeated by all.  The day was done and I left with a feeling of utter joy and sweetness. The day had ended and I came away with a memory that will last forever.
But OH! How the time flew by!!
Copyright © 2011, DPNLIVE – All Rights Reserved