HP announced that it will showcase the latest capabilities for top quality printing at photo finishers and professional labs at photokina (20-25 September 2016, Cologne, Germany).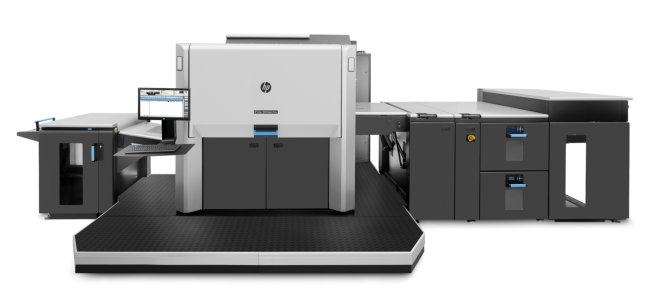 HP Indigo 12000 Digital Press
At HP's booth (Hall 4.2), visitors to photokina will see the HP Indigo 12000 Digital Press and dedicated capabilities for photo, the HP Latex 570 Printer, and the HP DesignJet Z6800 and Z3200 Photo Printers in action. During the show, HP will also host its worldwide Photo Summit, offering over 100 customers, professional photographers, partners and industry experts a host of innovative workshops to share inspiration and best practices across multiple applications.
"Photo finishers and professional photo labs are looking for ways to offer something new, unique and relevant to add value and transform the way customers share and preserve memories," said Francois Martin, Head of Marketing, Graphics Solutions Business, HP. "As the photo market continues to evolve, HP is proud to reaffirm its commitment to providing the widest range of dedicated solutions for this sector, and photokina is the ideal international platform for HP to showcase innovative solutions that can achieve this."
With this year's drupa proving a landmark success for HP, the company has seen a staggering uptake of HP digital printing solutions, including throughout the photo market. The HP Indigo 12000 broke sales records during the show, establishing itself as the press of choice for many photo printers. Customers across the globe, including Hucais, IFolor, MonAlbumPhoto, smartphoto and Shutterfly have all selected HP Indigo technology in recent months, in order to deliver superior photo products to their customers.
"At smartphoto, our ultimate goal is to deliver perfect photobooks to our customers every time. The HP Indigo WS6800p allows us to do exactly that, ensuring our customers receive the high quality products for which we have come to be recognized, and in the quickest possible time," explained Johan Dierickx of smartphoto. "For us, our new HP Indigo technology has proven to be invaluable, and it will be great to see what innovations HP has in store for photokina."
HP Indigo 12000 at photokina
The newly introduced HP Indigo 12000 Digital Press sets a new benchmark in print quality, with dedicated photo inks (including the new light light black) and major innovations in hardware and supplies. This new platform also further improves upon renowned HP Indigo image quality with High Definition Laser Array (HDLA) technology, which doubles the resolution to provide top quality images with smoother transitions and less grain.
The press opens new business opportunities with support for canvas and metalized substrates and enables advanced colour management that makes it easier than ever to reach and maintain colour across presses and sites. In addition, the Automatic Alert Agent makes it easy to identify print defects before sheets leave the press, saving time and money on reprints and improving the customer experience.
HP Latex – the perfect partner for photo finishers
The HP Latex 570 Printer, designed for large-format printing, offers new unique capabilities for the photo market. The printer allows print service providers (PSPs) to complement and expand their current photo offering and capture a new profit pool with high-margin, customized wallcoverings and photo wall murals, as well as canvases.
From gallery-wrap stretched canvas to wide-format canvases up to 3.2 m (10.5 ft), HP provides the complete canvas printing solution from design to finishing, including multi-panel design with the HP WallArt Suite2 and the ability to stretch and fold without cracking, eliminating the need for lamination.
HP Latex printers also enable PSPs to enhance their photobook offering with unique book covers produced on a wide range of substrates, which increases the value and the impact of their current offering. The HP Latex range also offers a number of unique features, such as the ability to produce double-sided prints and to print on uncoated cotton, creating entirely new application opportunities.
HP DesignJet Z6800 and Z3200 Photo Printers
Having been widely acclaimed for their photo printing capabilities, HP DesignJet Z6800 and Z3200 Photo Production Printers have become the industry's gold-standard for photo printing, continuing to deliver professional solutions for gallery-quality photo prints. The HP DesignJet Z6800 Photo Production Printer is the fastest graphics production printer of its class. Using HP Double Swath Technology and HP Vivid Photo inks with chromatic red, the printer can produce indoor applications and gallery-quality prints with 200 years' durability.
The HP DesignJet Z3200 remains the printer of choice for many photo professionals.  With 12 original HP Photo Inks, the HP DesignJet Z3200 creates exceptional black and white prints with smooth transitions, neutral greys and superior gloss uniformity – also offering an impressive 200 years' print durability.
HP Photo Summit at photokina
HP's Global Photo Summit will also take place during this year's show, with an audience of customers, partners, industry professionals and experts set to attend on 21st September 2016.
"As the leader in digital printing and the industry reference for photobooks and associated products, HP continues to energise the photo communities, pushing boundaries and creating new business opportunities," explained Francois Martin. "The summit will not only provide a host of innovative workshops, but will serve as a great foundation for sharing inspiration and best practice across multiple applications."
More information is available at www.youtube.com/hpgraphicarts and www.facebook.com/HPdesigners or follow HP on www.twitter.com/hpgraphicarts.