HP Award marks fantastic sales achievement

for City and West End Solutions.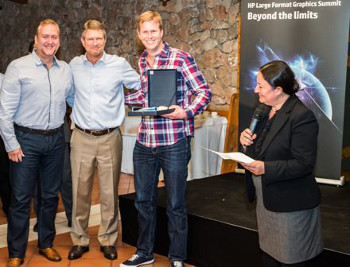 From left, Darren Walker (Director at CWE), Torben Bastholm (Regional Business Manager, Large Format Production Printing, UK&I & General Western Europe at HP) and Graham de Kock (Commercial Director at CWE) at the presentationUK based City and West End Solutions (CWE) have reason to smile these days after being awarded the prestigious award of leading reseller for latex printers sold throughout the Europe, Middle East and Africa region by HP. It was given to them in recognition of their outstanding sales success, on 3rd April 2014.
CWE's Commercial Director, Graham De Kock said "This award cements CWE's status as the number one supplier of HP's industry leading latex printers and is a testament to the value we place on building strong customer relationships, providing technical excellence and high levels of on-going support."
In a further acknowledgement of their commitment to the latex portfolio and proven successes with this product range CWE were also awarded sole distribution rights of the HP premium product offering, the Latex 3000.
CWE continue to be the only HP Preferred Partner in the UK allowed to sell the full HP Wide Format portfolio.
For more information on HP Printers call CWE Solutions on 0044 (0) 8444 829895, email This email address is being protected from spambots. You need JavaScript enabled to view it." mce_' + path + '\'' + prefix + ':' + addy59644 + '\'>'+addy_text59644+'<\/a>'; //--> or visit www.cwesolutions.co.uk.
Follow us on Twitter - @DigiPrintNews
Like us on Facebook www.facebook.com/DPNLive - (click the 'LIKED' button/top of page as well)
Copyright © 2014, DPNLIVE – All Rights Reserved.