Company Triumphs in luxury advertising awards 2014 in Marbella.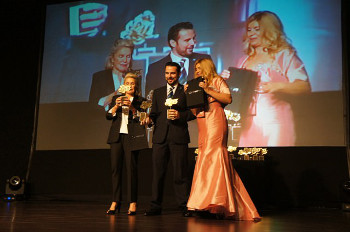 Left to Right are: H.R.H. Princess Beatrice d'Orleans, Honorary Member of Luxury Awards; Joaquín Mª López Batlles Marketing & Business Development Manager of Derprosa, and María Cansino, President of World City Foundation.Derprosa, a leading supplier in the field of lamination and finishing solutions in luxury packaging received three key Luxury Advertising Awards at the prestigious and important international Festival of Advertising, held at the Palace of Congress in Marbella. 14 November 2014.
The event, organised by the World City Foundation,was attended by more than 600 guests, including prize winners, representatives of the luxury sector, sponsors, contractors and advertising agencies, etc.
A record total of 37 awards in as many categories were distributed between 19 agencies and 2 young talents from different parts of the world, including Europe and Latin America.
Premium brands like Givenchy, Loewe, Mini, Porsche, Puig, Ferrero and Solan de Cabras among others were represented at the festival thanks to what was termed 'the excellent work' of their advertisers.
H.R.H. Princess Beatrice d'Orleans presided over the Festival, which was hosted by the charismatic Irma Soriano, the well-known professional and successful broadcaster.
Categories in which Derprosa received its award:
Category 1: Best Packaging of direct and promotional marketing
Campaign Title: 212 VIP MEN
Client: Carolina Herrera
2nd Category: Best direct and promotional marketing
Campaign Title: Some Whiskies you buy, some you earn
Client: Johnnie Walker
3rd Category: Best creativity in Direct Marketing and Promo
Campaign Title: Bulgari
Client: Bulgari
www.derprosa.com
You can Tweet, Like us on Facebook, Share, Google+, Pinit, print and email from the top of this article.
Copyright © 2014, DPNLIVE – All Rights Reserved.