Cocoon paper shines brightly in Christmas designer campaign by Antalis.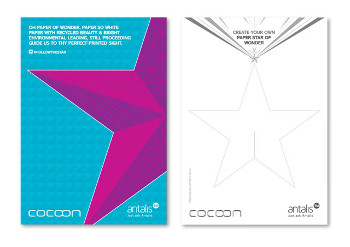 Cocoon Mailer VisualAn interesting creative campaign has been launched by Antalis in the run up to Christmas. It's targeted at designers who will have the opportunity to win one of three crates of champagne.
The promotion, which runs from November until December 10, involves a mailer with die-cut star cards which Antatis wants the creative community to decorate in their own unique, personalised way with whatever theme and method they choose. Created by Stocks Taylor Benson, designers then punch-out, and interconnect the stars to complete 3D star decorations – perfect for the office Christmas tree!
To enter the competition, designers simply tweet the hashtag #followthestar, and the best illustrated decorations will have the chance to win one of three crates of champagne – just want Santa ordered for the Christmas toast!
The mailer is printed on Cocoon Offset and Silk and features a twist on the Christmas Carol 'We Three Kings', which Antalis said has been cleverly penned to highlight the qualities of the brand - 'Oh paper of wonder, paper so white, paper with recycled beauty and bright, environmental leading, still proceeding, guide us to thy perfect printed sight.'
Cocoon, a range of 100 per cent Recycled* FSC® certified offset and coated papers, has the qualities and appearance of virgin fibre paper but boasts far superior environmental credentials.
Natalie Thomas, Marketing Manager for Antalis UK comments: "Not only is this campaign a great way to showcase the appearance and important environmental credentials of Cocoon, but it's also a fun way for designers to get creative and interactive with the piece."
Neil Watts, Senior Designer, Stocks Taylor Benson, added: "The idea for this mailer comes from the Cocoon brand and material itself, being 100 per cent recycled and pure white - it really is a paper of wonder. We wanted to create a piece that designers can play with and experience the qualities of the material, the star of wonder idea fits perfectly with Christmas – #followthestar!"
* also available in 50% recycled.
For more information, visit www.antalis.co.uk
You can Tweet, Like us on Facebook, Share, Google+, Pinit, print and email from the top of this article.
Copyright © 2014, DPNLIVE – All Rights Reserved.