USB 3 uEye XC industrial camera's unconventional design quality demonstrates individuality.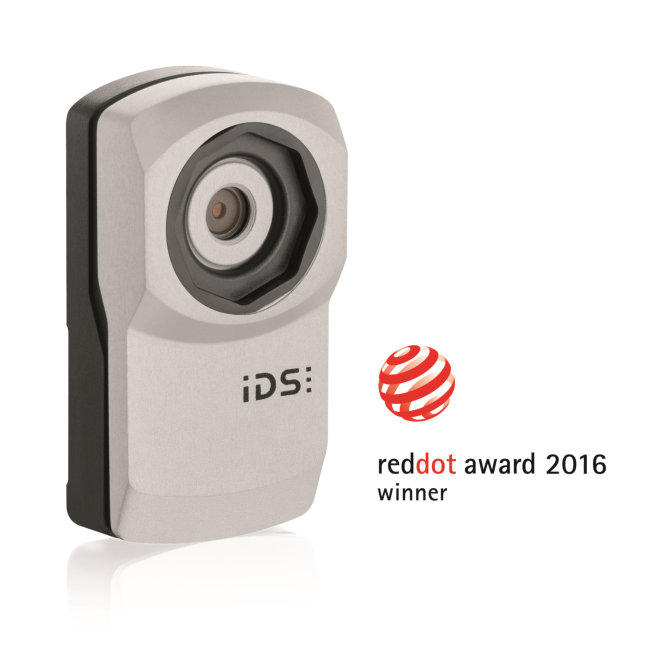 IDS USB 3 uEye XC camera
German based Imaging Development Systems (IDS), has received a Red Dot award for its innovative USB 3.0 industrial camera. The company is one of the leading global manufacturers of digital industrial cameras with USB 2.0, USB 3.0 or GigE interface.
The Red Dot Award, Product Design 2016, attracted participants from 57 nations who registered about 5,200 products and innovations for the accolade this year.
Only products which set themselves apart significantly through their exceptional design receive the sought-after quality seal from the international Red Dot jury, consisting of 41 experts from all around the world. The independent expert panel assesses each entry strictly and fairly, live and on site, according to criteria such as degree of innovation, formal quality, functionality and ecological compatibility.
"This industrial camera captivates with its unconventional design, which gives rise to a multiform profile and demonstrates marked individuality." explained the jury.
With its dimensions of 61 x 32 x 19 mm, the magnesium housing is not only extremely compact and thus space-saving, but also robust and suitable for industrial applications. The look of the USB 3 uEye XC follows its typical application fields such as kiosk systems (ATMs, multimedia stations, passport readers), access control, logistics (barcode-reading) and medical technology. Professor Dr. Peter Zec, founder and president of the Red Dot Award said,
"With their performances, the Red Dot winners not only demonstrated an extraordinary design quality, but they also showed that design is an integral part of innovative product solutions."
The features are also just as innovative as the design of IDS' award-winning USB 3 uEye XC industrial camera. On board it is equipped with a Sony camera module that combines the ease of a digital camera with high-resolution, richly detailed images at high speed. For industrial cameras untypical auto features such as autofocus, digital zoom, backlight compensation, face detection and automatic white balance facilitate day-to-day business, even under changing ambient conditions. The industrial camera is compatible with Mac OS on Apple computers. To cope also with individual, steady requirements – common in some industrial sectors - these features can be deactivated and the models can be adjusted manually.
The official award ceremony of the "Red Dot Award: Product Design 2016" takes place in the Red Dot Design Museum in Essen, Germany, on July 4 2016. The USB 3 uEye XC will be presented at the special exhibition "Design on Stage" for four weeks beside other winning products before it becomes part of the permanent exhibition.
More information: www.red-dot.de.
You can Tweet, Like us on Facebook, Share, Google+, Pinit, print and email from the top of this article.