Company gives charity a helping hand following national competition win.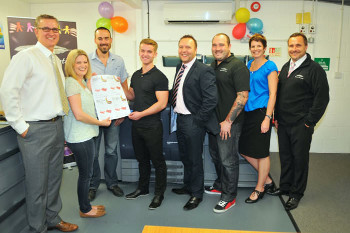 L-R: Keith Ross, Director of Kestrel Printing Ltd; Emily Hewett (iamemily), who designed the charity literature; Chris Hyde from the Southend-on-Sea Cystic Fibrosis Association; Joe Tonge; Andy Mansfield, Account manager at Antalis UK; Ashley Cross, Kestrel Printing Ltd; Marian Thomasson, Marketing Communications Manager at Antalis UK; John Galley, Director of Kestrel Printing.When UK based commercial printer Kestrel Printing Limited won a new digital printing press in a nationwide competition, the staff were eager to share their success with local Cystic Fibrosis charity fundraiser Joe Tonge.
Kestrel Printing, based in Southend-on-Sea, which has helped support Joe in his fundraising efforts, has given the teenager another boost in his bid to be the first person with Cystic Fibrosis to reach the summit of Mount Kilimanjaro. Joe, aged 19 from Westcliff, aims to complete the 19,341ft climb of the African mountain on behalf of Southend's Cystic Fibrosis Association. He and Chris Hyde, from Southend's Cystic Fibrosis Association, were invited by Kestrel Printing to its premises to witness his charity literature being printed on the company's new digital press.
Kestrel Printing took ownership of its new Konica Minolta C6000 digital press after winning first prize in a national competition organised by its paper supplier, Antalis UK.
John Galley, Director of Kestrel Printing Ltd said: "This is the very first job to be produced on our new digital printing press, so we wanted to make it a really special occasion. We are proud to support Joe in his charity effort, and thought what better way than to help him than to produce Cystic Fibrosis awareness literature to help publicise his forthcoming trek up Kilimanjaro."
Kestrel's new digital printing press has enabled John and his team to expand its printing services to customers who require smaller quantities or personalised print jobs within very quick timeframes.
John Galley added: "This latest edition to our range of printing equipment will definitely help us to boost our own business offering, especially with the onset of our new online ordering facility at www.kestrel-printing.co.uk. We were keen to give something back to the community in return. Joe is a real inspiration to us all, and we wish him all the best in achieving his goal."
Press release by AD Communications on behalf of Antalis
Follow us on Twitter - @DigiPrintNews
Like us on Facebook www.facebook.com/DPNLive - (click the 'LIKED' button/top of page as well)