Company achieves great success at The National Calendar Awards!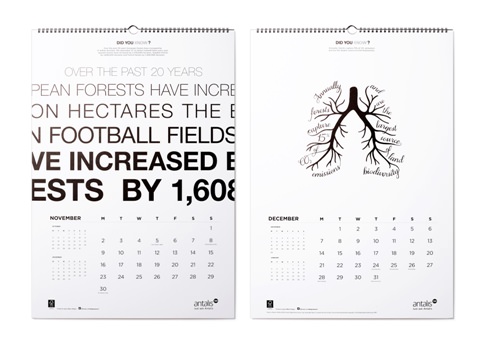 Antalis 2015 Calendar Nov-Dec Antalis UK has announced that what it terms as 'our beautifully crafted 2015 calendar' has won not just one, but three prestigious awards at this year's National Calendar Awards, held at Stationers' Hall, London, on Wednesday 21st January.
It picked up the Excellence in Illustration Award, Pictorial Bespoke Calendar Award and the coveted Fred Kendrick Award for 'Outstanding Business Calendar of the Year'.
Antalis commented that the beauty of the design lay in its simplicity. Each month is depicted by a typographic illustration and uses a mono colour palette to great effect. The paired down nature of the design was created to perfectly matche the environmental messaging, creating clarity and strength. The inspiration from the calendar came from Antalis' "Did you know?" environmental video.
The calendar is printed on papers with environmental credentials – Cyclus Offset, Conqueror Bamboo and Rives Sensation Recycled. Antalis said it was "exceedingly proud to have worked with Stocks Taylor Benson to create this years' calendar."
www.antalis.co.uk
For further articles on Antalis UK please go to http://www.dpnlive.com/index.php/component/search/?searchword=Antalis%20UK&ordering=newest&searchphrase=all&limit=20&areas%5B0%5D=content
You can Tweet, Like us on Facebook, Share, Google+, Pinit, print and email from the top of this article.
Copyright © 2015, DPNLIVE – All Rights Reserved.