Company to bring a 'universe of print' to life for exhibition visitors.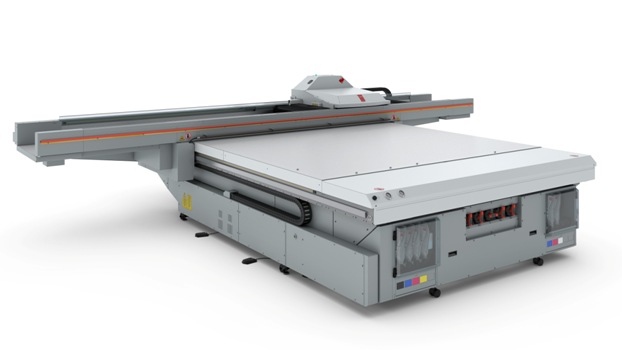 Océ Arizona 6170XTSCanon has confirmed that it will present a completely integrated wide format graphics arts line up at FESPA 2015 (18-22 May 2015, Cologne), in order to show its commitment to support customers achieve business growth. The company plans to showcase through diverse applications, live demonstrations and detailed industry-specific application tours how customers can add value, generate new business revenue and tap into new markets using the latest wide format innovations.
The Canon stand (Hall 9, Stand Y10) has been designed to take visitors on an experiential journey that explores how wide format print is pushing the realms of creativity for Print Service Providers (PSPs) and designers alike. This, explained Canon, includes looking beyond print as a powerful enabler for 'static' display graphics and demonstrating how this medium can even add value to digital and online platforms to transform PSPs into strategic communications partners.
Divided into three themed zones for 2015, the Canon stand will depict the wide format application possibilities and examine key trends, in the areas of Retail, Packaging and Promotion and Design to Manufacture. Each zone has been created to demonstrate how the diversity and strengths of Canon's wide format portfolio can help customers, be they from the world of print, design or manufacture, to become more profitable.
The stand will feature technologies including:
The Océ Arizona 480GT, a versatile UV flatbed printer producing near-photographic image quality on rigid or flexible media. It features eight independent ink channels and the ability to print a decorative varnish or a white layer on a variety of substrates. Possible applications range from Point-of-Sale (POS), signage and backlit signs to fine art, specialty and industrial applications. At FESPA, the Arizona 480 GT will be used to demonstrate a new UV curable ink, named IJC257, developed for all Océ Arizona 300, 400 and 600-Series printers. It is characterized by superior adhesion to a wide range of indoor and outdoor rigid and flexible media, an excellent colour gamut and a satin-matte appearance.
The Océ Arizona 6170XTS, a seven colour, high-volume flatbed printer designed for sign and display PSPs who produce over 30,000m2 of printed rigid media per year. This model focuses on business-changing productivity and has been optimised for the efficient and high-speed production of rigid media applications. It features an extra-large 2.5m x 3.05m vacuum table to keep media and objects stationary during printing and offers print speeds up to 155 m2/h. The print speed in the production print mode is 100 m2/h.
The Océ ColorWave 900, a 42" roll-based printer with raw speeds of up to 1,000 square metres per hour delivering production potential of around 430 A0 prints per hour. Billed as ideal for a vast range of display graphics applications including POS posters, exhibition and trade show materials, counter and floor displays and technical drawings and maps.
The Océ ColorWave 700, launched in February 2015 and making its European debut at FESPA this year. Utilising the latest version of Océ CrystalPoint technology, this model is being marketed as offering excellent flexibility as it caters for printing on uncoated, coated and specialty substrates and supports media up to 0.8 mm of thickness – making it suitable for a large range of indoor and short-term outdoor graphics applications including posters, canvas, wallpaper and banner printing
The Canon imagePROGRAF iPF9400, incorporating Canon's LUCIA EX, 12-colour pigment ink system, aimed at high end photographic, fine art and colour critical print production.
In addition to production technology, digital cutting tables and the full range of Canon substrates, visitors to the Canon stand will be introduced to the Canon workflow solutions that allow businesses to work efficiently and productively, and make the most of their equipment.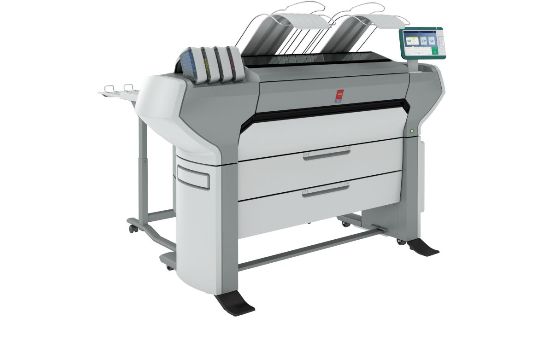 Océ ColorWave 700Visitors will see a large range of applications being produced on-stand each supporting one of the three themes, as well as being able to browse through the updated Arizona 'Look Book', which explores the breadth of applications possible with this technology. A new 'Look Book' dedicated to the application areas of the Océ ColorWave range will also be available for the first time.
Mathew Faulkner, European Marketing Manager, Wide Format Printing Group, Canon Europe, commented: "FESPA 2015 provides the perfect platform to tell a joined up story about what is possible with the right production workflow in place. That is why we are exploring detailed vertical workflows and physically walking visitors through everyday scenarios that show Canon's wide format print used in the context of a successful business, inspiring print service providers as well as end users and print buyers.
"This industry is ever-evolving and we need to help PSPs stay ahead of the curve; whether that's by offering a more diverse range of printed applications, or indeed, by helping their customers to look at how wide format print can seamlessly support other communications platforms such as online and digital. Whatever the starting point is for visitors at the show, the Canon stand has something for everyone and we look forward to discussing the new challenges and exciting opportunities they face."
Canon Europe will also be featuring the DreamLabo 5000 production inkjet photo printer at FESPA this year. Canon Europe's spokespeople will be on-site at Stand D95 in Hall 8 to demonstrate its professional quality photo book printing service hdbook™, powered by Canon, as well as discuss the latest trends and developments in the growing photo book market.
http://www.canon-europe.com/
You can Tweet, Like us on Facebook, Share, Google+, Pinit, print and email from the top of this article.
Copyright © 2015, DPNLIVE – All Rights Reserved.