Consolidated event specialist Icon moves to

EFI technology to gain speed and quality advantages.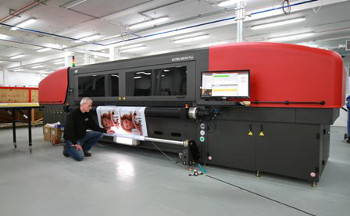 UK's first VUTEk HS100 Pro goes to IconThe first VUTEk® HS100 Pro high-speed digital press to be installed in the UK has been made after McKenzie Clark finalized integration with Icon, following acquisition by Chime Communications.
This is the first time the company has in invested in EFI™ technology and the new flat-bed and roll-fed UV-curable 3.2m platform is complemented by the Fiery® proServer digital front-end. EFI said that this will enable both throughput and quality to be addressed on the same device without compromise, and is an important addition to increase productivity of point-of-purchase and event graphics.
The amalgamation into a single site for both companies' brings together two diverse areas of wide-format display requirements as precision photographic quality output combines resources with sport and event brand management in one production area. Managing directors Graham Clark and Keith Goodwin believe that the variance in print criteria is easily addressed with the new press, which features the latest greyscale print-heads plus EFI's innovative pin and cure technology designed to allow for greater droplet control and different finishes across a variety of materials.
For Icon, the key necessity was to supplant its existing Lambda output with newer, more sustainable technology without compromising the excellent quality for which the company is renowned. "It is vital that we maintain consistency across colours with the option for matte, satin and gloss finishes so that we can easily meet the results expected by our clients, many of whom specialise in the beauty and fashion sectors," stated Clark. "Our prior experience of wide-format printing technology has increased our expectations of what we can expect from the right platform. Although this is our first ever purchase from EFI, we are confident that the VUTEk HS100 Pro is the right machine for all of our requirements."
"The contrast in print needs created by the complementary markets in which Icon specialises means that our newest wide-format printer must give us the best of both worlds," explained Goodwin. "It is essential that it addresses very fine standards of print with precision colour matching for close viewing, yet accommodates extremely high throughput speeds for jobs which are going to be observed from a distance."
Icon's roots date back to 1937 after the merger of Speedway Signs and Aerosigns. The company is widely regarded as the UK's largest event branding specialist, handling major events worldwide. These include the forthcoming Glasgow 2014 Commonwealth Games, which it is sponsoring, and the 2014 FIFA World Cup Brazil. McKenzie Clark was founded in 1963 and its expertise in live events and retail is complemented by full design and management services. The acquisition of the two companies by Chime Communications was undertaken to consolidate the strengths of both businesses and accelerate continued expansion. By investing in the EFI VUTEk HS100 Pro and EFI Fiery preserver, it increases their wide-format capabilities to handle the steady growth in production demands.
Follow us on Twitter - @DigiPrintNews
Like us on Facebook www.facebook.com/DPNLive - (click the 'LIKED' button/top of page as well)
Copyright © 2014, DPNLIVE – All Rights Reserved.