First Mimaki JFX200 sale confirmed within

minutes of making its UK debut at exhibition.
---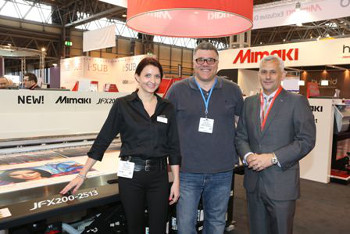 L-R - I-Sub Digital's Emma Plant, Graphic Station's Paul Fox, and Hybrid's Peter Mitchell at Sign & Digital UK 2014There were smiles all around as the first worldwide sale of Mimaki's newly-launched JFX200-2513 UV LED flatbed printer took place at Sign & Digital UK, held in Birmingham, UK, at the end of April.
---
The new machine, unveiled at the show on UK and Irish distributor Hybrid Services' stand, was snapped up by commercial printer Graphic Station Ltd just minutes after the show opened its doors. The Romford based business, founded six years ago by partners Paul Fox and Stuart Vaile, made the investment in the system through Mimaki reseller, i-Sub Digital, in order to expand its wide format print services into the fine art and photographic sectors.
Fox explained: "We set up Graphic Station as a commercial operation, but I come from a wide format background. About 18 months ago we invested in our first Mimaki wide format system and demand has just grown and grown since then."
To meet this increased demand Fox reviewed a variety of solutions: "When we heard about the new JFX200 we knew it would be perfect to help us to continue to expand. It will allow us to be a lot more creative and facilitate our move into the fine art and photography markets."
The Mimaki JFX200-2513 features a 2.5m x 1.3m bed, ideally suited to printing UK standard 8' x 4' sheets of rigid media at speeds up to 25m2/hr. The printer features numerous new production features and Graphic Station cited its low power consumption and running costs as additional reasons for choosing the printer over alternatives.
"Its environmentally friendly approach immediately drew our attention. The Mimaki uses less energy and its LED curing technology means work is ready to be handled much quicker. This will for sure improve our productivity," added Fox
Graphic Station website is www.thegraphicstation.co.uk. I-Sub Digital's portfolio of products for the wide format sector can be found by visiting www.isubdigital.com. Hybrid distributes the full range of Mimaki solutions in the UK and Ireland and its website is www.hybridservices.co.uk.
Follow us on Twitter - @DigiPrintNews
Like us on Facebook www.facebook.com/DPNLive - (click the 'LIKED' button/top of page as well)
Copyright © 2014, DPNLIVE – All Rights Reserved.