New media from
Soyang Europe

paves

the way across concrete and tarmac!



---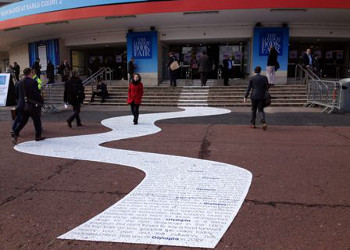 Alumigraphics ... spreading the word across concrete and tarmac Soyang Europe, a leading supplier of digitally printable media for a broad range of industries including the wide format and super wide outdoor, retail POS, flag and signage sectors, is rapidly becoming recognized for having every 'surface covered'.
---
---
So when UK -based Trafford Signs were looking for something a little different to fulfil a high-profile client brief, they decided to contact Soyang to see what was available.
The client involved was The London Book Fair held at Earls Court in April and after a number of discussions with Soyang, a sample roll of Alumigraphics was provided to Trafford Signs. This rugged aluminium foil based material conforms and holds to the texture of any surface that it is applied to. It's designed for high durability, resistance to heavy pedestrian and rolling vehicle traffic, as well as all types of weather conditions and is marketed as having a myriad of potential applications in both indoor and outdoor environments.
The idea behind the project was to create a meandering and inspirational 'river' of words which would attract and lead visitors across the public pedestrian spaces around the exhibition halls and in through the main entrance.
Once the concept and application was approved, which was after a highly successful test and trial run, the race was on to get everything printed and installed in time for the opening of the Fair. It involved an extensive printing exercise which was carried out as soon as the media arrived and driven down overnight for installation the day before the show opened.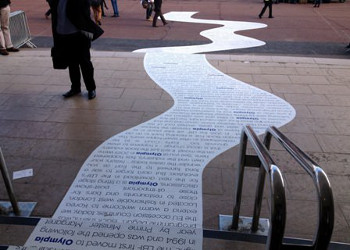 When a picture really is more than a thousand words Tim Egerton, Sales Manager for Soyang Europe commented; "It was quite a challenging few days for the team at Trafford Signs because of the tight schedule and the fact that the Alumigraphics media was so new to the UK market. However the printing went really smoothly, then there was a short window of opportunity to lay the printed media across the forecourt and entrance steps, with an eye on the potentially changing weather conditions, which could have delayed things."
Egerton continued; "Happily the installation went like a dream, and the whole team were genuinely impressed with how easy the media was to work with and lay across such uncompromising outdoor surfaces. What no-one really expected was the huge level of interest from passers-by, members of the public and other contractors, as the installation took place. People were stopping in amazement and photographing the process on their smart phones. It was remarkable; even before the installation was complete or the fair was officially open – such is the impact of this incredible new media."
Alumigraphics is available in smooth or high-grip surface finishes and can be printed on large format UV curable, latex and solvent digital printers …or even screen printed. More detailed information about the product can be found at www.soyang.co.uk.
Follow us on Twitter - @DigiPrintNews
Like us on Facebook www.facebook.com/DPNLive - (click the 'LIKED' button/top of page as well)
Copyright © 2014, DPNLIVE – All Rights Reserved.