Mimaki inspires with new inks and applications at Drupa 2016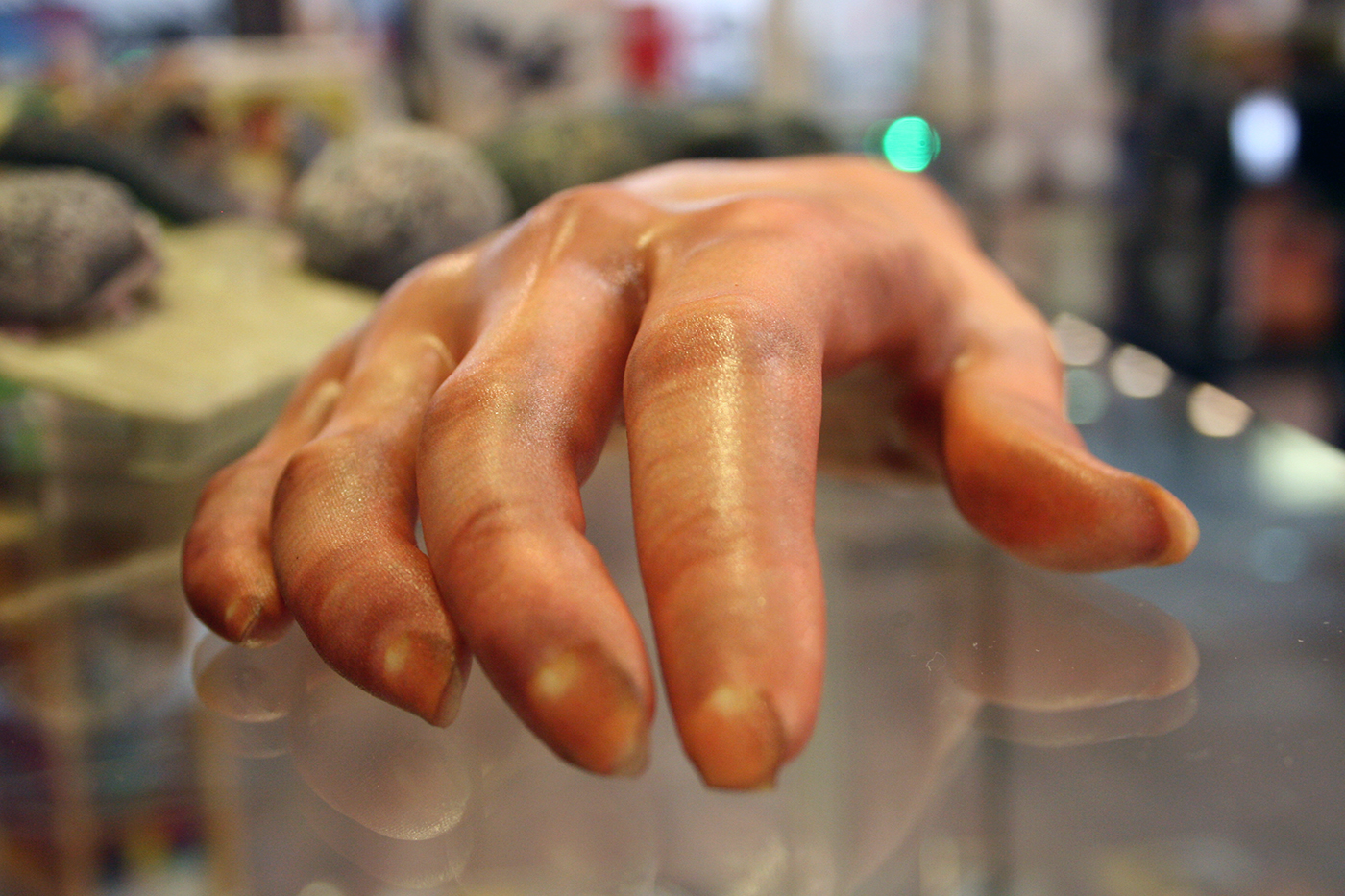 Mimaki 3D-printed hand model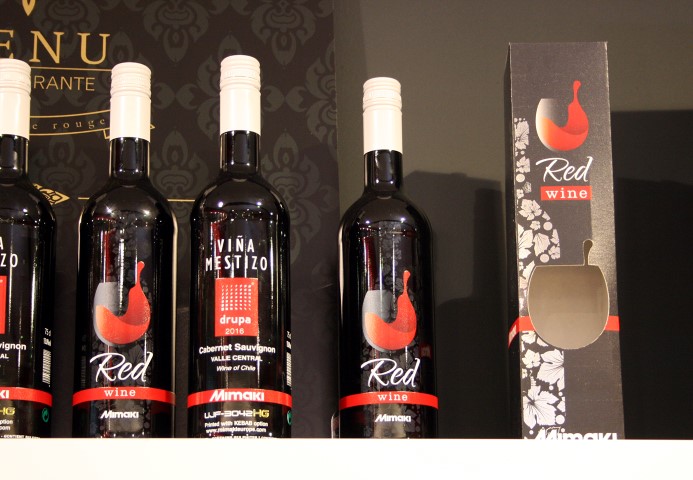 Printed wine bottles at the Mimaki boothMimaki has reported that Drupa 2016 was a benchmark show for the company, where it presented the latest in digital printing technology, including a wide range of new inks, printers and applications. The company also introduced the Mimaki 'Internet of Things,' which will enable a global, interconnected manufacturing platform including Mimaki printers, industrial robots, inspection devices and a production control system to manage them. Mimaki was also honoured with three prestigious EDP Awards:
The Mimaki UJV55-320 was named Best Wide Format Roll-to-Roll Printer up to 320cm;

The Mimaki UJF-7151plus earned an award for the Best Special Object Printer; and

The Mimaki TX300P was cited as the Best Textile Printer Roll-to-Roll up to 100sq.m/h.
Mike Horsten, Mimaki's General Manager Marketing for EMEA said
"By any measure, this was one of our most successful shows ever. Our 295 sq. metre stand was packed every day and visitors were eager to learn more about the business growth opportunities Mimaki solutions provide – and they were in a buying mood. We are looking forward to our post-show conversations with existing and future customers as we continue to help them 'touch the future' with successful business strategies."
Ink Innovations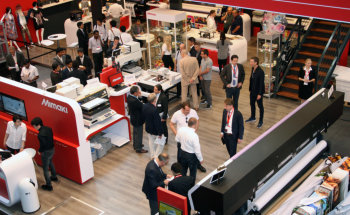 Mimaki booth at drupa 2016At drupa, Mimaki introduced its Invisible ink, which is only visible under UV lighting, for security applications. It can also be used for commercial purposes on wallpaper, tables and other elements of room interiors for an otherworldly atmosphere under special lighting. One of the other possible commercial uses would be printing on beer bottles that can "light up" a club experience.
Mimaki also demonstrated its new LUS-900 and LUS-350 UV inks for thermoforming applications. These inks are stretchable when heated, up to 900% and 350% respectively, enabling digital decoration of thermoformed parts that could only be created using time-consuming and expensive screen printing in the past.
Mimaki is distributed exclusively in the UK and Ireland by Hybrid Services Ltd and the company's National Sales Manager, Industrial Products, Stuart Cole, comments, "The development Mimaki is making in LED UV inks continues to move at an incredible pace. Alongside our core LED UV inks which already offer varying degrees of flexibility, these new highly formable products create significant new opportunities for companies with Mimaki UV printers."
The Mimaki 'Internet of Things'
At drupa 2016, visitors to the Mimaki stand also learned about Mimaki's 'Internet of Things' approach to a global manufacturing supply chain.
"We are building a system architecture that enables connectivity from planning and prepress through production and post-press," Horsten explains. "It will enable an increase in unmanned operation, as well as facilitate uninterrupted manufacturing. For example, if a production line is down in one location, this automated production system will search for an alternative factory location, sending all relevant information to ensure that work can be completed and deadlines met."

"Another key element of this infrastructure will be the ability for Mimaki to remotely maintain and support Mimaki printers anywhere in the world, including proactive and preventative service activities."
The company was showing early developments in its 'Internet of Things' approach with a Mimaki UJF-7151plus equipped with a robotic arm, as a first step towards the open system.
A New Dimension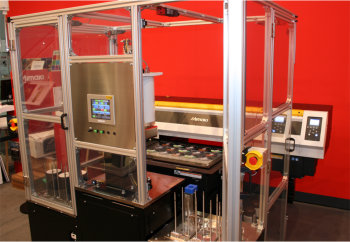 UJF-7151plus installed with a robotic armMimaki also unveiled samples produced by a 3D concept printer designed specifically for the sign & display graphics and industrial products markets.
"This is a full-colour UV inkjet method for high definition 3D printing," explained Horsten, "and it drew a great deal of interest at the show. Visitors were particularly excited about the ability to combine realistic 3D objects with 2D surfaces for applications that are set to revolutionise the sign & display graphics market, taking signage to an entirely new level." One of these samples in particular generated a lot of interest: a flexible 3D printed hand that looked very life-like and could be used in medicine for different purposes.
Mimaki also printed directly on bottles of wine at the show; combining high quality images with high quality wine, using its Kebab feature for printing on cylindrical objects. "We hope that visitors who were able to take these bottles with them will savour the wine and are inspired to create their own opportunities for digital printing on cylindrical objects," Horsten says.
It's all about the applications
"We also wanted to show the visitors at our stand that Mimaki isn't just about selling machines. It's much more than that!" Horsten concluded. "To that end, we were providing visitors with the Mimaki Design Book, which was developed in cooperation with the German Large Format magazine. As an inspiration source, it included examples of a wide variety of applications created by Mimaki customers from around the globe, or by Mimaki ourselves, for everything from posters and industrial signage to point of sale, interior design and vehicle wraps. We aim to inspire our customers and to show them that the possibilities to create with Mimaki are endless. Next to that, the Mimaki Design Book was a 'thank you' to the company's customers for all their creativity throughout the years."
You can find out more here www.hybridservices.co.uk.