Hybrid will be introducing new Mimaki printers at Sign & Digital UK 2016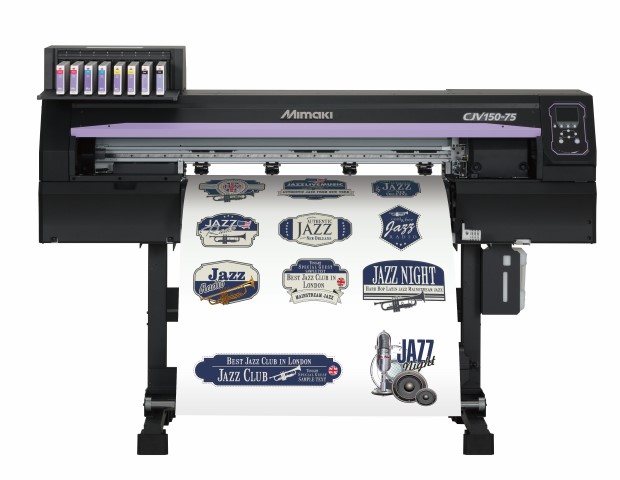 The Mimaki CJV150-75 integrated printer/cutterThere will be new product launches a-plenty at Sign & Digital UK 2016. Hybrid Services Ltd., Exclusive UK and Irish Mimaki distributor, will be launching a LED UV printer during its first visit to the sign and graphics industry on stand E10 at the show.  Also, Hybrid will also be displaying the MTEX Blue all-in-one dye sublimation printer on its stand situated at the entrance to the exhibition.
Stuart Cole is Hybrid's National Sales Manager for Industrial Products.  He said:
"Visitors to Sign & Digital UK will witness the very newest technology the minute they walk through the door of the show.  Our new UJF-7151plus LED UV printer will be one of the first machines they see, so we're excited to set the tone for what we're sure will be a fantastic show."
Stuart explained to DPNlive that the Mimaki UJF-7151plus is a mid-format flatbed printer that features exceptionally detailed output coupled with low running costs. It produces consistently high print quality with a 710x510mm bed size and industrial construction.  This makes it appealing to screen printers looking for a digital solution that can increase their flexibility as well as quality.
Stephen Woodall is Hybrid's National Sales Manager for Textile & Apparel.  He said:
The MTEX Blue dye sublimation printer"The buzz around soft signage and textile printing continues to increase.  The MTEX Blue has Mimaki technology at its core and offers a solution that incorporates fixation, enabling users to print and cure dye sublimation ink onto polyester in one process."
The new system should have considerable interest at the show because it is firmly targeted at the retail PoS, display graphics and exhibition sectors. Stephen concludes,
The Mimaki UJF-7151 Plus LED UV printer"Companies looking at investing in dedicated textile hardware for the first time will find the ideal solution in the MTEX Blue – it's easy to use, delivers a vibrant and long lasting print direct to polyester and opens whole new revenue streams for signmakers and print providers."
John de la Roche is the National Sales Manager for Sign & Graphics. He explained that Hybrid will be showing Mimaki solvent printers and printer/cutters.  He said:
"I'm confident we'll have a solution on the stand for everyone – from start-ups visiting the show for the first time to seasoned professionals. For example, Mimaki's CJV150 range of printer/cutters is incredibly well priced yet sports features far in advance of even its closest competitor and the range doesn't stop there!"
You can receive more information from the company on 0044(0)1270 501900 or by visiting www.hybridservices.co.uk