New lower price for high-gap Mimaki UJF-3042HG.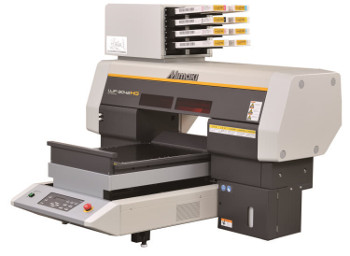 The Mimaki UJF-3042HG now just £24,995 + VATThe Mimaki-UJF-3042HG A3 flatbed LED UV printer has seen a reduction in price to just £24,995 + VAT with immediate effect. The 'high gap' version of Mimaki's acclaimed range of small format printers allows for printing direct to objects up to 150mm thick, making it ideal for the promotional products, bespoke gift and manufacturing markets.
---
Featuring opaque white inks, clear varnish and a jettable primer alongside a full set of vibrant process inks, the Mimaki UJF-3042HG produces a high quality, photographic print onto almost any substrate. With the ability to print to plastic, metal, glass, wood and other rigid substrates using its low energy, cool curing LED UV technology, the opportunities to imprint solid objects are almost limitless.
National sales manager – industrial products for Mimaki's exclusive UK and Irish distributor, Hybrid Services Ltd is Stuart Cole. "The highly competitive new price for the UJF-3042HG represents extremely good value for money, given the revenue generating opportunities the printer affords," he states. "Its low running costs, strong green credentials and highly creative potential ensure print providers can make an ever stronger case for investing in this popular machine."
A recent additional option to the UJF-3042HG is the 'Kebab' – a bolt on unit manufactured by Mimaki that enables the ability to print completely around the circumference of cylindrical objects, opening the printer up to companies seeking to proof packaging, or offer decorative products with a complete print such as candles, vases, bottles and cans.
Available through Hybrid's network of authorised resellers, the UJF-3042HG forms part of Mimaki's substantial range of LED UV flatbed printers which increase in size right up to the 2.1m x 3.1m JFX500. "The trickle-down of technology means similar inks and curing devices are found in our A3 printers as the 10' x 5' graphics machines," says Cole. "Whatever your printing need, there's a Mimaki to suit and with the new price for the UJF-3042HG I'm delighted that it's even more attainable than ever."
Further information on the complete range of Mimaki printers, cutters, inks and software can be found by visiting www.hybridservices.co.uk or calling Hybrid on 0044 (0) 1270 501900.
Follow us on Twitter - @DigiPrintNews
Like us on Facebook www.facebook.com/DPNLive - (click the 'LIKED' button/top of page as well)