Konica Minolta brings class production to Premier Print with education push.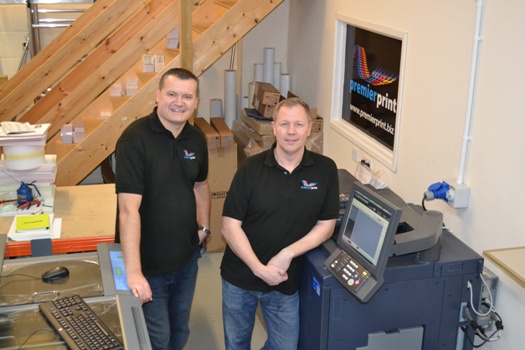 Rob Baldwin (left) and Kevin Rideout , benefits of digital colour helping Premier Print win new contractsWelsh based Premier Print has installed a new print production system from digital technology giant Konica Minolta. One of the main reasons for the purchase was to cut click costs dramatically for the company, which has trebled output and opened up new markets including winning new contracts in education.
According to Premier Print, introducing greater flexibility and more colour output as part of an investment in a bizhub PRESS C1060 and Duplo DC-645 cutter and slitter, is paying dividends for the company which has also been given business development support by Konica Minolta under its Digital1234 programme.
Premier Print, of Cwmbran, South Wales, which employs five full-time staff, said that it made the investment in the Duplo finishing system and Konica Minolta 60ppm digital colour printer confident that the ROI will be achieved relatively quickly.
Rob Baldwin, joint owner of Premier Print with Kevin Rideout, said: "It's early days because we're not yet fully utilising all the fantastic potential of the new Duplo, but I am just so pleased with how things are going. We're already making full use of the Konica Minolta bizhub PRESS C1060, which I'd recommend to anybody."
He added: "The print quality is superb. In the past you could always tell whether it was litho or digital because the toner had a noticeable sheen, but the clarity and quality now is fantastic. This, combined with the Duplo, which I know is also a great machine, is helping us to cut down on our outsourcing costs."
One of the major benefits of the Duplo DC-645, from Premier Print's standpoint is that the high degree of automation has freed up substantial time for the five-strong full-time staff, including two graphic designers who now only have to spend a maximum of three minutes programming the system and filling trays.
"To be honest, we're not maximising the potential of the Duplo," said Mr Baldwin. "We're saving ourselves around two hours a day, but it could be a lot more."
Another benefit of the new Duplo / Konica Minolta set-up is the prospect of setting up a web2print system and growing into new markets such as education.
"We're successful because we're continually moving with the times," said Baldwin. "The Konica Minolta and Duplo systems have freed up more time for me to develop new avenues of business and provide an ever better service for customers.
"And the benefits of digital colour are helping us win new contracts in education. It's just the beginning."
http://www.premierprint.biz/
You can Tweet, Like us on Facebook, Share, Google+, Pinit, print and email from the top of this article.
Copyright © 2015, DPNLIVE – All Rights Reserved.