Roland DG partners with Coventry University for a state-of-the-art new facility and new Academy location.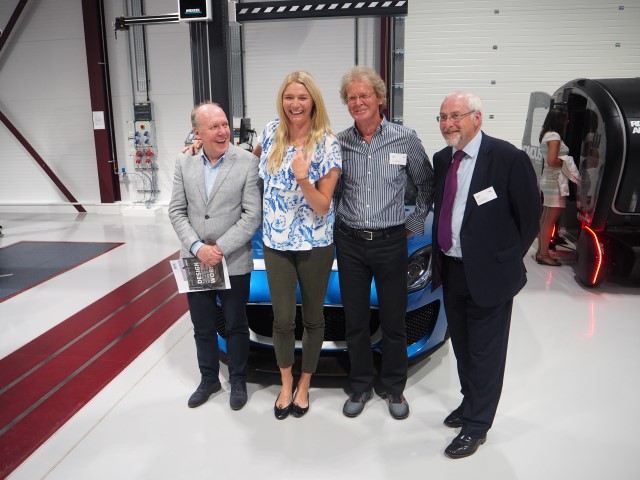 David Wright of Coventry University and Jodie Kidd alongside Ian Callum ...
On the 25th May 2017, Coventry University opened its doors to a brand new postgraduate facility, the National Transport Design Centre. The Centre is developed to offer industries and designers a modern, bespoke facility to co-operate in the creation of solutions for the automotive, rail, marine and aerospace sectors.
Roland DG is delighted to confirm that the new centre has selected DGSHAPE by Roland machinery to be amongst the technology installed for the creation and development of complex and highly accurate scale models by engineers and designers. An essential part of the design process for large-scale projects, Roland DG's additive and subtractive 3D technology is sure to be an invaluable asset to the NTDC.
In addition, the state-of-the-art space will also become a new location for the Roland DG Academy, providing wider coverage across the UK for a variety of different subjects and applications. This strategic location brings Roland DG closer to their customers, offering more businesses the chance to attend the informative and inspirational courses.
Joe Wigzell, Academy and Creative Centre Manager at Roland DG, said:
"Our partnership with Coventry University is a great opportunity for Roland DG. We get a fantastic new space to run our future courses, providing us with a new location for the convenience of our customers. And of course, seeing our machinery used in such a state-of-the-art facility to develop impressive products is a testament to the technology."
With the facility officially opening on 25th May 2017, it's sure to prove a valuable asset for the production of important projects and design solutions. And with Roland DG's academy courses offering wider-spread availability, there are sure to be many inspired attendees too.