Companies join forces to launch

Digital Café for designers and marketers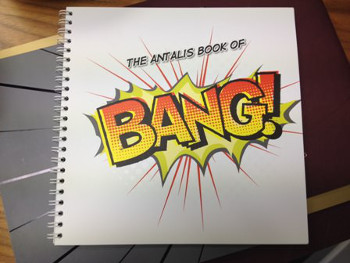 The Antalis book of BangAntalis UK has teamed-up with Islington-based digital printing company Rapidity to launch an innovative meeting zone titled The Digital Café. The company said it's a creative space where designers, marketing professionals and print buyers can find inspiration in the world of digital print and paper. The concept behind the new Digital Café is that visitors can immerse themselves in the capabilities of digital print whilst being surrounded by a wealth of cutting edge substrates and creative papers in order to explore exciting new options for print-based marketing campaigns that hopefully will generate high quality response rates.
Rapidity has constructed a dedicated space in its London headquarters, turning the area into a café-style area where people will be encouraged to fuel their imaginations in the world of paper and print to bring new dimensions to their campaigns. In addition, they can seek expert advice and consultancy on the capabilities of digital print from the Rapidity team, as well as input from Antalis on its wide range of substrates.
To complement the Digital Café, a cartoon-style book, entitled 'The Book of Bang' has been produced with the aim of providing visitors with additional ideas and inspiration. Each page has been printed on a different substrate to clearly demonstrate the versatility of paper which includes tactile and embossed surfaces as well as utilising a range of printing techniques and raised and specialist inks. The book has been printed on one of Rapidity's two HP Indigo 7600 presses.
To demonstrate the multi-sensory potential of high quality print and paper, Antalis will showcase its comprehensive range of creative, high impact substrates at the Digital Café to demonstrate the multi-sensory potential of high quality print and paper. It will feature a selection from its Curious Collection, including SKIN, Metallics and Translucent, along with Conqueror, Rives, Keaykolour, Pop'set, Digigreen and the new Novatech Digital papers. The Digital Café will also feature a variety of speciality substrates, including Trucard, Invercote, Magnecote, Yupo, Indifilm and Idem digital.
Commenting on the launch of The Digital Café, Paul Manning, Managing Director of Rapidity said, "This will be a real place of inspiration for anyone interested in generating creative print-based marketing campaigns, where they can just drop in and see just what is possible using today's cutting edge technologies and substrates."
He continued, "Our HP Indigo presses have opened up an even wider range of applications including the capability to cost-effectively print with white and raised inks and onto embossed and textured paper. And, by teaming up with Antalis, we can share the versatility and quality of a range of creative substrates to show just how the choice of paper can really maximise the impact and reaction to a piece of printed marketing collateral."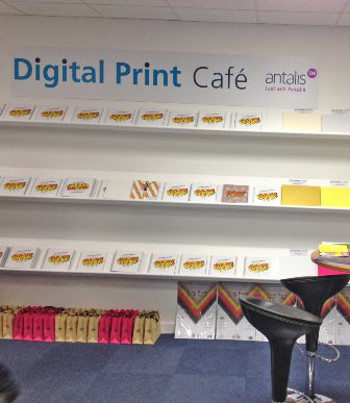 The new Antalis Rapidity Digital CafeNatalie Thomas, Marketing Manager at Antalis UK added, "The Digital Café is a fantastic opportunity to show marketers, designers and print buyers just how eye-catching, tactile and impactful print and paper can be, particularly when combined with the most sophisticated digital printing technology."
Follow us on Twitter - @DigiPrintNews
Like us on Facebook www.facebook.com/DPNLive - (click the 'LIKED' button/top of page as well)
Copyright © 2014, DPNLIVE – All Rights Reserved.