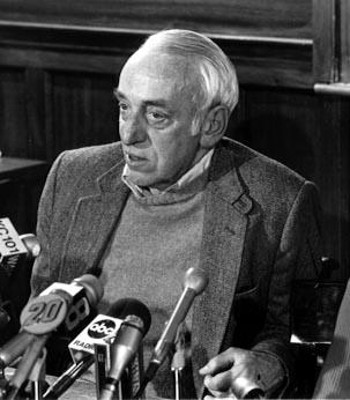 JamesTobinA flurry of cross-channel ministerial visits between here and the UK is almost certainly motivated by the two governments' desperate desire to block a pan-European "Tobin tax" on financial transactions. This tax was first mooted by US economist and Nobel Laureate James Tobin who, as far back as 1972, wanted to curb what he saw as dangerous speculation in international currency markets.
But don't be surprised if both sides are also discussing possible contingency plans for "eurogeddon". In other words, what might happen if the euro-zone either shrinks or disintegrates entirely?
Last week, Taoiseach Enda Kenny was in London meeting UK Prime Minister David Cameron. The next day, Cameron's deputy, Nick Clegg, was in Dublin. Last month Finance Minister Michael Noonan travelled to London to meet UK Chancellor George Osborne.
So what's going on?
Well, it's simple. Britain is Ireland's largest trading partner, while Ireland is the UK's fifth largest trading partner. Enough said!
Add in the small matter of the huge exposure of the two state-controlled UK banks, Royal Bank of Scotland (RBS) and Lloyds, to Ireland, and Britain's £7bn contribution to the November 2010 bailout and you can see the picture.
Both sides are likely to have spent most of their time talking about the EU's proposed Tobin tax. Britain is completely opposed to such a tax, fearing it would disadvantage the City of London, while in Ireland we are worried about its impact on the IFSC.
Logic would dictate that this was not all they were discussing.
The Bank of England has instructed UK banks to draw up contingency plans for a euro-zone break-up, and with the Irish Central Bank forced to deny publicly that it is printing punts, it defies logic that the two countries are not discussing eurogeddon.
And that's scary!
Copyright © 2011, DPNLIVE – All Rights Reserved