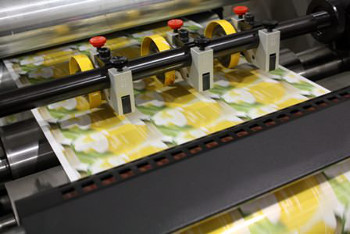 Caslon digital inkjet press printing labelsAt drupa 2012 (stand C18, Hall 5); FFEI Ltd, a global developer of digital imaging solutions, will showcase an expanded product portfolio including a new end-to-end digital labels solution. It will also launch its exclusive worldwide VIP Partner Programme, designed to extend the global availability of FFEI products. Based in Hemel Hempstead, UK, FFEI core technologies are inket, software, commercial CTP and newspaper CTP.
FFEI's star attraction will be its new end-to-end digital labels solution which includes a Caslon digital inkjet press incorporating a new digital spot colour unit printing white ink, and FFEI's latest RealPro Workflow software. These new products aim to enable label converters and digital print houses to partner with one technology supplier since all the components are designed to work together. FFEI says this will allow companies to move into the profitable market of small-to-medium run labels with confidence due to greatly reduced business risk and disruption.
"Following a major investment programme we are very excited about presenting our portfolio at this year's show," Andy Cook, managing director, FFEI, said. "Our new digital labels solution, specifically, is expected to create significant market interest, representing a much needed 'door opener' to increased business growth for flexo or digital print shops alike. Having already received an excited early welcome from both the market and potential reseller partners for this solution, and our extended portfolio, we look forward to exploring future collaboration and presenting the benefits of our new VIP Partner Programme at the show."
Caslon, a digital colour inkjet press jointly developed between FFEI and Nilpeter A/S, can be installed as part of a traditional narrow web label press or alternatively, utilised as a standalone digital inkjet system, converting high quality labels up to 420mm web widths, at 25 m/min rising to 50 metres (dependent on resolution).
Another new for drupa 2012, and available from FFEI and reseller partners, is an additional Caslon digital spot colour unit that prints digital UV-curable white ink for printing on a wide range of substrates. The company says this new capability eliminates the need to pre-print white ink via a traditional press – shortening production times, minimising cost and providing increased job control.
In addition, FFEI Caslon customers will have the opportunity to benefit from the newly enhanced RealPro Workflow System, a fully automated production solution for commercial, digital and label printers. New specialised labelling and packaging features enable seamless integration with the Caslon digital inkjet press, providing users with the ability to centralise control of their files and intelligently output them via the most cost efficient route, whether on a digital or conventional output device, or a third party system.
Visitors to the FFEI stand at drupa 2012 will also be treated to live demonstrations of RealVue 3D Packager, an innovative 3D visualisation software solution for fast carton packaging or label prototyping as well as hearing more about FFEI's market-leading CTP range.
Copyright © 2011, DPNLIVE – All Rights Reserved