Company continues regional educational workshops for printers.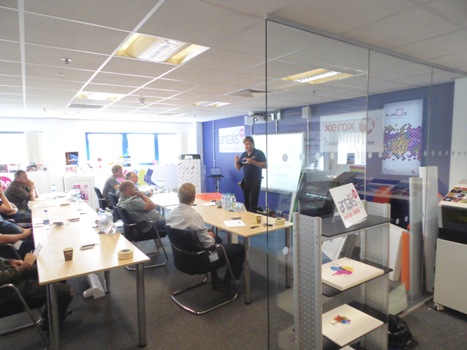 One of Antalis signmakers training course in action!Antalis UK has confirmed it will continue a series of regional workshops aimed at print service providers (PSPs).The purpose of these classes is to help those looking to expand their knowledge of new applications and explore opportunities to enable them to extend their services and increase revenue streams.
The workshops which have been running since September 2014, normally take place at the company's Digital Academy, based at its headquarters in Coalville, Leicestershire.
To make the workshop more accessible for customers to attend, Antalis has been running a series of Regional Digital Academy Workshops across the UK. The next of these will take place during September and October in Leeds, Norwich and Dartford focusing on signmaking. Antalis commented that this will make it an ideal learning environment for experienced printers looking into the sign and display market for the first time, as well as for new employees.
Hosted by experienced signmaker, author and presenter Paul Hughes, a regular speaker at the Signmaker's workshops at Sign & Digital UK, the day will concentrate on using a range of Antalis materials to demonstrate basic application of vinyl's; learn the basics of applying vinyl graphics and what vinyl's/techniques to use when and where.
In addition, there will also be the opportunity to attend a 'Frame what you Print' workshop at Antalis' Norwich branch in September, again, aimed at printers looking for new outlets for their printed output.
Commenting on the continuation of the regional workshops, Giles Bristow, Antalis Digital Support Manager said: "The workshops have proved to be hugely successful since we went "on the road" and to date over 350 customers have attended workshops covering six different application/products areas, learning new skills to add value to their businesses."
Places on the workshops are extremely limited and will cost £75, to include materials and lunch. For more information or to book your place on one of the seminars, go to www.digital2business.co.uk/digital-academy/ or email This email address is being protected from spambots. You need JavaScript enabled to view it..
For more information, visitwww.antalis.co.uk and www.digital2business.co.uk
You can Tweet, Like us on Facebook, Share, Google+, Pinit, print and email from the top of this article.
Copyright © 2015, DPNLIVE – All Rights Reserved.