New UJV55-320 3.2m UV printer expands grand format graphics opportunities.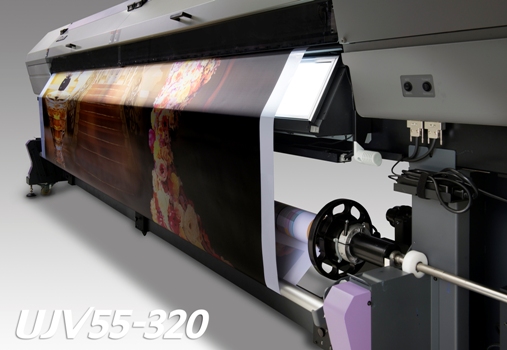 The UJV55-320 features twin roll printing capabilityA new, 3.2m roll-to-roll inkjet printer from Mimaki made its European debut at the recent FESPA Digital exhibition in Amsterdam. The Mimaki UJV55-320 uses UV-curable ink cured with a low-energy LED light array and is aimed at the sign & digital sector.
Stuart Cole, National Sales Manager – Industrial Products for Mimaki's exclusive UK and Irish distributor; Hybrid Services Ltd said,
"The new UJV55-320 offers an ideal solution for the huge growth market of grand format backlit graphics; frequently found in airports and other public places. With low running costs, thanks to its LED UV curing technology and competitively priced inks, a substantial colour gamut, excellent image opacity and Mimaki's traditionally high print quality, we're certain it will have broad appeal. We're also confident it will deliver class leading performance for its price, making it a highly attractive proposition."
Hybrid expects its showing at next month's Sign & Digital UK exhibition in Birmingham to be one of the most anticipated product launches at the event.
The UJV55-320 is a versatile and affordable solution for sign & display applications, delivering speeds of up to 110 m2/h and print resolutions of up to 1,200dpi, all depending on the substrate. It also features a seven colour inkset including white and light cyan / magenta that can be configured in a 4-colour mode or 6-colour set plus the white. Graphics that leave the printer are dry, thanks to the use of instant-curing LED UV ink technology, which means they are immediately ready for finishing, significantly reducing production cycle times. In addition, UV-curable inks emit no volatile organic compounds (VOCs), a factor which minimises its environmental footprint.
The availability of white ink on the new machine allows for the printing of high quality, vibrant results on transparent and coloured media and three-layer, colour-white-colour printing is especially suitable for production of applications such as window graphics and backlit day and night signs. Moreover, white-only printing is also an option for an elegant look or use on dark substrates. Mimaki Circulation Technology (MCT) maintains white ink print quality and reduces ink waste.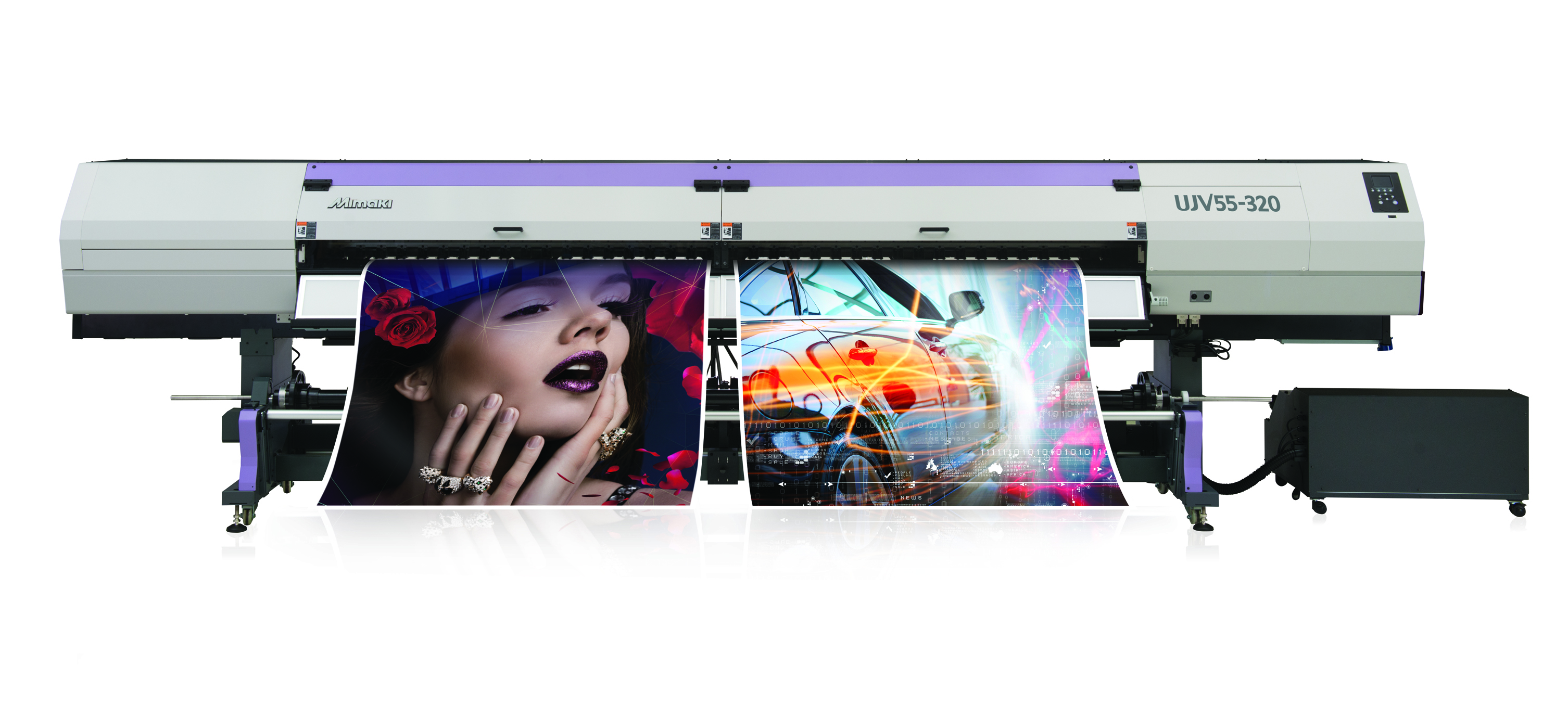 The new Mimaki UJV-320 will debut in the UK at Sign and Digital UK in AprilThe UJV55-320 has a distinctive feature also in the guise of an inline, post-print LED lightbox. This enables operators to check the printing quality of backlit signage during a production run, by simulating its installed look, again reducing waste and time. The UJV55-320 also features twin roll printing capability, enabling printing on two separate rolls of the same media for simultaneous printing of two different jobs. Media rolls in twin roll operation can range from 210 to 1,524mm in width, with the distance between the two rolls being automatically detected for faultless performance. Automatic detection of nozzle faults followed by cleaning and or nozzle substitution, work together with Mimaki's RasterLink 6 software. This features a patented dithering technique which, along with Mimaki Advanced Pass System (MAPS) for higher quality and reduced banding, delivers optimum print quality even at high print speeds and during longer print runs.
"The UJV55-320 draws on Mimaki's significant heritage in high quality graphics printing," concluded Cole. "Not only will it compliment existing technologies within the Mimaki range but it is also expected to deliver an affordable solution for companies looking at entering the sector."
Further information about Mimaki's full range of printing and cutting products can be found by visiting www.hybridservices.co.uk
You can Tweet, Like us on Facebook, Share, Google+, Pinit, print and email from the top of this article.
Copyright © 2016, DPNLIVE – All Rights Reserved.