New 3.2m Mimaki UJV55-320 to be put through its paces at exhibition launch.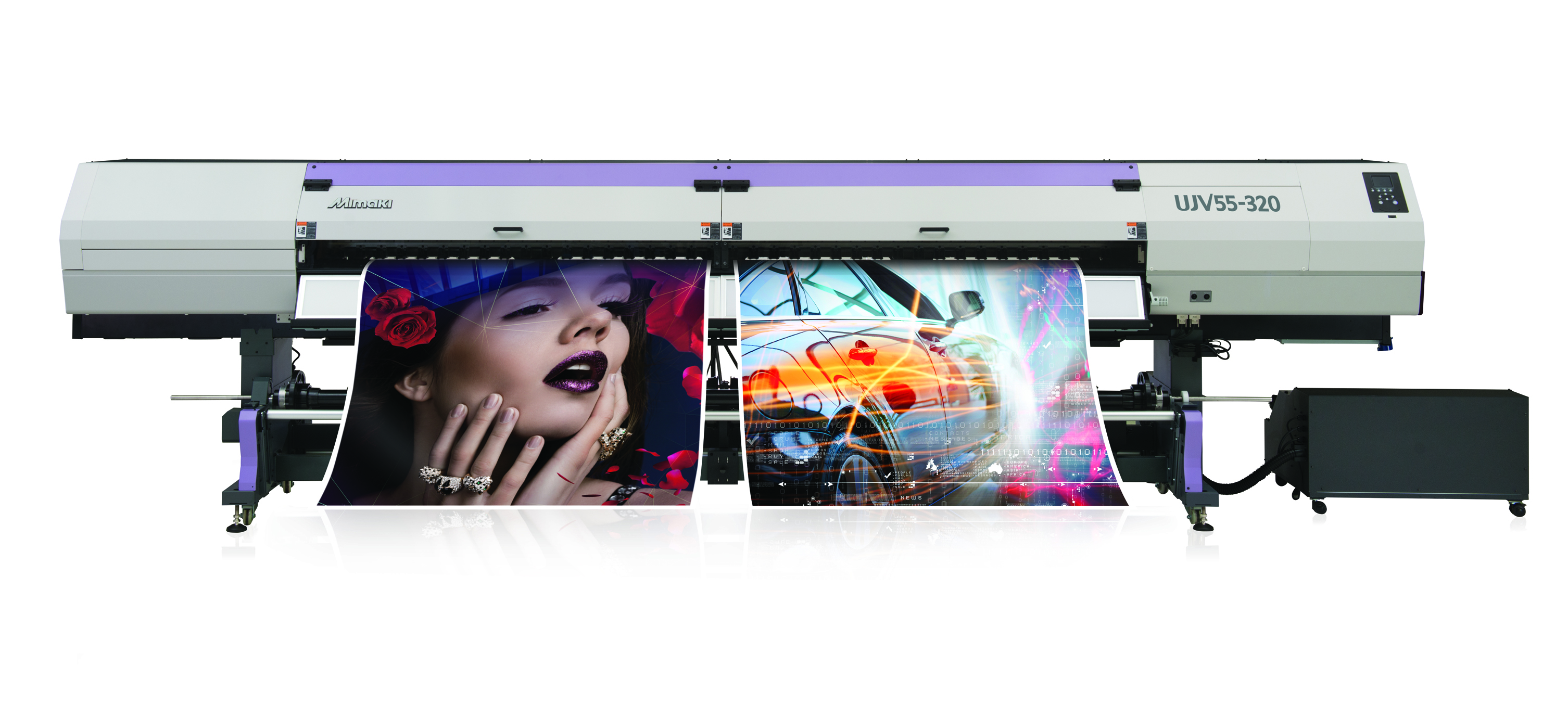 The Mimaki UJV55-320 will make its UK and Irish début at Sign & Digital UK in April.UK based, Hybrid Services Ltd is preparing to debut the new Mimaki UJV55-320 roll-to-roll LED UV printer at Sign & Digital UK after an impressive European launch at FESPA Digital in Amsterdam. The company announced that forward orders for the new machine had created unprecedented demand.
"We've not seen such interest in a grand format machine since the launch of the hugely popular JFX200 flatbed," stated Stuart Cole; the company's National Sales Manager – Industrial Products. "The response to the new printer at FESPA was spectacular with Mimaki reporting significant orders during the exhibition and we expect a similarly impressive reaction when the machine shows for the first time in the UK."

He continued, "The JFX200 rewrote the rule books for 8' x 4' flatbed printers and we're fully anticipating the UJV55 to do the same for roll-to-roll machines. Announcing a retail price of just £59,995 married to its impressive feature set, we're already appreciating how attractive it is to a large section of our existing and potential customer base. Mimaki has an excellent reputation for listening to its customers and delivering the machines they're asking for results in products like the UJV55 coming to market."
With a number of intuitive features that enable high quality output at production volumes, the UJV55-320 uses Mimaki's latest flexible LED UV inkset to produce banners, backlit and point of sale graphics at up to 3.2m wide. With all the benefits of LED curing, including low running costs, the printer also features the option to run two narrower rolls concurrently, an inline lightbox for checking backlit output on the machine and the capability to run roll media up to 100kg in weight.
"The UJV55-320 offers a cost effective, flexible and powerful solution," added Cole. "Sign & Digital UK will be a great opportunity for the UK and Irish market to put the new printer through its paces and following its successful showing in Amsterdam, we're anticipating an equally enthusiastic response here too."
Full details of the Mimaki UJV55-320 can be found by visiting www.hybridservices.co.uk/ujv55 or by speaking with the Hybrid team in advance of the exhibition on 0044 (0) 1270 501900.
You can Tweet, Like us on Facebook, Share, Google+, Pinit, print and email from the top of this article.