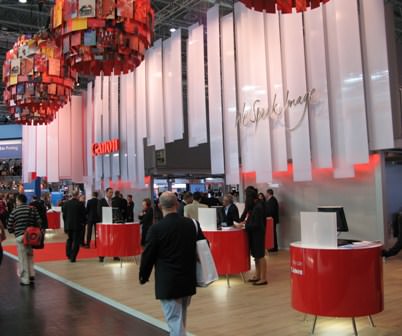 The Canon drupa 2008 stand
Multinational Canon is preparing for a major presence at this years drupa exhibition (Mary 3rd–16th Dusseldorf). Its stand will be the event's fourth largest and will also incorporate Océ as part of the Canon group.
At 3,750m2 the company said it would dominate Hall 8a, its exhibition spot (Stand C06 – 1).
The full range of Canon and Océ technology will be on view. The company believes this will show customers the broadest portfolio of innovative professional print products and solutions available.
David Preskett, European professional print director, Canon Europe, says: "The depth of expertise and technology that Canon and Océ can now offer is very exciting. So for visitors to drupa who are looking for inspiration, I'd urge them to come to the Canon stand to see that there's much more to print than printing.  As well as observing the latest Canon and Océ technology in action, they'll also have access to valuable advice from independent business consultants and to fascinating insights about their customers.  Add to that the huge amount of print applications that will be on display and the Canon stand should be on the itinerary of every visitor looking for new opportunities to grow their business."
Copyright © 2011, DPNLIVE – All Rights Reserved