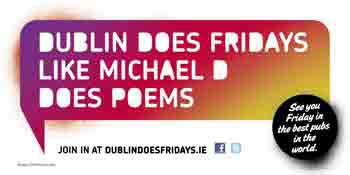 "Dublin Does Fridays" – and is gearing up to do them better, according to the Licensed Vintners Association (LVA) which is busy promoting the sociability of the capital's pubs.
LVA research has found that 95 per cent of Dubliners see themselves as being "sociable", with three in five viewing the pub as a home-from-home. Surprisingly, it also found three in five of those who enjoy a drink in a Dublin pub go out just once a month.
The Dublin Does Fridays campaign started Friday January 27th and runs until March 30th in pubs across the city. Its objective is to attract people into pubs on a Friday evening to enjoy an after-work drink with friends and colleagues.
The research uncovered other interesting information:
- 73% of those surveyed said meeting friends was what they looked forward to most when going out for a drink.
- One in five Dubliners said the pub's "craic and buzz" were what attracted them when they went out.
- Just 1 per cent (only males) found the Dublin pub was the place to flirt and find love.
At the campaign launch, Donall O Keeffe, LVA chief executive, said: "Dublin Does Fridays is focused on getting people out on a Friday evening and re-energising Dublin. The campaign is about making the pubs an even better experience by connecting with people in a more relevant way through social media and making it work for what is the ultimate social network – the Dublin pub."
A special feature of the campaign involves a team of Dublin Does Fridays reporters who will visit some of Dublin's best hostelries to talk to people about their pub experiences. Also, a special online show, fronted by Jennifer Maguire, will be recorded in selected Dublin pubs and shown on Snug TV on YouTube.
So the message is get involved by visiting www.dublindoesfridays.ie
Facebook.com/Dublin-Does-Fridays and twitter.com/dublindoesfri
Copyright © 2011, DPNLIVE – All Rights Reserved