The list covers all tastes

from
culture

to '

craic

' (Irish for fun).



1. Templebar Tradfest
The Temple Bar TradFest, (January 22nd – 26th), in the heart of Dublin's Cultural quarter started the year off. There was dozens of free events plus music trails, headline concerts from home grown stars Stockton's Wing and De Dannan and performances in places as diverse as St. Patrick's Cathedral and the Button Factory. The Tradfest also allowed people to pick up an instrument and show what they could do at one of the music master classes.
2. Make a Movie
This is guaranteed to bring the stars out to play during the country's premier film event, the Jameson Dublin International Film Festival, (February 13th – 23rd). It will showcase the very best in Irish and international film, and promises a packed programme of more than 130 feature films, public interviews, industry workshops and master classes. Additionally, there will be directors, actors and producers attending to meet and discuss their work, so it's a film buff's dream, as well as a huge social event for Dublin cinema goers.
3. Sample a taste of the capital!
For food junkies, Dublin City will become a haven for you during The Dine in Dublin Restaurant Week, (February 24th - March 1st). Top restaurants are involved in this week-long gastronomic event with giveaways, and of course, special value offers on meals. There will be cooking demonstrations, prosecco evenings, wine-tastings, pop-up theatre performances, and cocktail master classes. Bloom in the Park takes place over the June Bank Holiday weekend, (May 29th – June 2nd) featuring an artisan food market and food village. Why not try a Fab Food Trail where you can sample delicious tastings on a leisurely walk, peppered with fascinating snippets of information on the city's history and architecture.
4. Celebrate St. Patrick!
Dublin is the only place in the world to be to celebrate Ireland's patron saint. The capital will turn green for the St Patrick's Day Festival, (March 14th - 17th), featuring what the organisers are calling 'an action-packed, Celtic fiesta spanning four days of pageantry and fun'. Everything from street theatre, giant puppetry, funfairs, outdoor concerts, comedy shows and music sessions in the city's lively pubs will make this a must for everyone. The main event will be the St. Patricks Day Parade involving hundreds of floats and marching bands to create one of the most spectacular outdoor events of the year.
5. The Giro d'Italia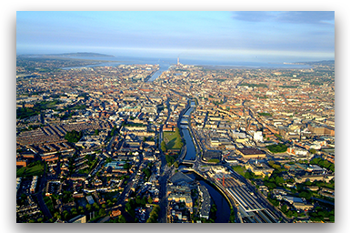 dublinOne of the greatest cycling events in the world is coming to the streets of Dublin! The Giro d'Italia Big Start, (May 11th) wheels into Dublin at the end of three days of top class cycling around Ireland from the world's best professionals. Join with thousands in giving these elite athletes a Dublin-style welcome. You might even be tempted to do a little cycling tour of your own and make the most of Dublin Bikes, the city's free bicycle transport network with 44 stations.
6. Brian Boru!
To celebrate Dublin's Viking past in 2014, which marks the 1000th anniversary of one of the most significant events in Irish history, The Battle of Clontarf, won by the mighty chieftain Brian Boru, March sees the opening of a Battle of Clontarf Heritage Trail designed to guide you through the most important sites. You can also find out more about Dublin's Viking history at Dublinia, an interactive exhibition beside Christchurch Cathedral. Why not become a Viking for an hour or two on the Viking Splash amphibious tour bus. They provide the horned helmets, you provide the Viking roar! Or try the free Viking Walking Tour, ending up in a pub in Temple Bar telling Viking stories!
7. Culture Lovers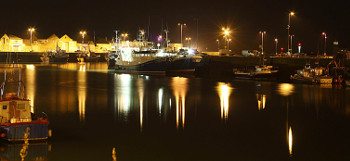 Howth HarbourCulture seekers will never be disappointed with a visit to Dublin any time of the year. The highlight is during September and October where the Dublin Festival Season has events to suit everyone's tastes. What about the Mountains to Sea Book Festival in Dun laoghaire, (September 2nd – 7th), which attracts some of the world's leading authors while the Dublin Fashion Festival, (September 5th – 8th), is a favourite in the social calendar. The Dublin Theatre Festival, (September 25th – October 12th), is billed as the country's largest multi-disciplinary arts event with hundreds of stage events. The Dublin Fringe Festival, (September 2nd - 27th), is a 16 day festival of theatre, comedy, dance and spectacle, which is spread across more than 40 venues and celebrates the new and the next. Culture Night, (September 20th) is a 'not to be missed' opportunity to visit the city's museums, galleries, churches, historic houses, artists' studies and cultural centres, – for free!
8. Be a Cheer leader in Croke Park!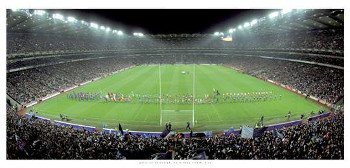 Croke ParkSee how American's celebrate sport as cheer leaders and razzmatazz replace the Artane Boys Band in Croke Park, the home of Gaelic Games, for the history-making US college football extravaganza, The Croke Park Classic (August 30th)! This game will see the UCF, (University of Central Florida) Knights square off against Penn State Nittany Lions to mark the opening of the 2014 American football season. This is the first time both teams have played outside of the US and the match will be broadcast on US TV stations. With thousands of American football supporters in town sporting the stars and stripes, the atmosphere in the city centre promises to be one big party!
In September Croke Park will host the All-Ireland Hurling and Football finals, a great day out, if you can get your hands on one of those treasured tickets. If you have a head for height and like a little bit of adventure, why not sign up to the Etihad Skyline rooftop tour of the stadium which gives a bird's eye view of the city at 17 stories high.
9. Watch the biggest all-women's race in the world

Samuel Beckett BridgeThe Flora Women's Mini Marathon, (June 2nd), is the largest all-women's race in the world, with over 40,000 participants taking part every year. A new event on the running calendar is the Rock & Roll Half Marathon, (August 4th), which started last year with 6500 athletes from home and abroad. But the main one of the year is the Dublin City Marathon, (October Bank Holiday Monday) which takes professional and amateur runners alike through some of the city's historic landmarks. All over the city people come out in their thousands to cheer on the runners.
10. Villages and Neighbourhoods
Dublin is a city made up of villages and neighbourhoods and exploring them is a must to get under the skin of the capital and its people. Take a walk around the cobbled streets of Temple Bar, wedged between Trinity College and the Old City. This is Dublin's party centre at night, packed with bars, discos, and pubs. During the day it's quieter with quirky shops and cafes. The nearby Creative Quarter around Georges Street is where you will find up-and-coming designers and painters. Residential neighbourhoods including Ranelagh and Donnybrook are worth a visit with buzzing pubs and restaurants or stroll along the leafy embassy belt in Ballsbridge. Check out The Liberties in the inner city, home to the famed Guinness Brewery, and the antique district around Francis Street, where you will find many hidden treasures. For Georgian magic walk around Merrion Square and Fitzwilliam Square, each with two little parks. Some of Dublin's most famous citizens once lived here including Oscar Wilde!
11. Outdoor Dublin!
What about getting some fresh air and stretching your legs after a hectic night on the town! Less than an hour from the city you will find a nature lover's paradise of mountains and forest. And you don't have to leave the city for a walk because Dublin boasts some great parks such as Marlay Park in Rathfarnham, south of the city which has stunning walks and a brilliant weekend farmers market. The city also has one of the largest city parks in Europe, the 770 acre Phoenix Park, home of Dublin Zoo. It has as lots of paths and trails and space for you to walk or cycle around, but watch out for the deer! You can also take time for a cuppa at the Victorian Tea Rooms. If you fancy teeing off there are some world class golf courses all around the capital including the Royal Dublin links course on Bull Island, Portmarnock, or Dun Laoghaire.
12. Dip into Dublin!
If you fancy some stunning coastline then Dublin is only a stone's throw away as well as beautiful beaches. Just Hop on the DART train and head north to the historic fishing village of Howth, a wonderful place to see the fishing boats bringing back their bounty. You can try some sea fishing yourself! Or dip in the sea. The village has an invigorating cliff walk around the Hill of Howth, and you can then indulge yourself with some delicious seafood in a local pub or restaurant afterwards. If you take the DART south you will find yourself in Dun Laoghaire, with its magnificent marina. Sign up for a sailing or kitesurfing lesson. And visit the Shackleton Exhibition at the new ferry terminal. Then stretch your legs along the gorgeous coastal walk past Scotsmans Bay and Sandycove to Dalkey village, famed for its restaurants, pubs and shops. Stop along the way at scenic Bullock Harbour, from where you can take a boat ride to Dalkey Island for a picnic – seafood sandwiches, of course!
13. The Hidden Gems of Dublin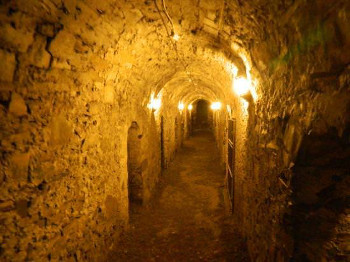 St. MichansOne great thing about Dublin is you never know what hidden gems and unusual attractions you might find around the next corner. What about checking out mummies of Dublin's most influential 17th, 18th and 19th century families in St Michan's Church and Crypts! Another quirky attraction is in Christ Church Cathedral crypt which has the mummified remains of Tom and Jerry, a cat and rat that died in the organ pipes and mentioned by James Joyce in Finnegan's wake. And for all you lovers out there you will find the bones of none other than St. Valentine at the Carmelite Church in Whitefriar Street.
Do little people really exist in Ireland? Well you might find out at The National Leprechaun Museum, dedicated to Irish mythology, and a place which will open up a fun and magical world full of fascinating folklore and enchanting stories for you.
Explore the inventors of Dublin on an Ingenious Dublin tour starting at the Science Gallery. A great way of seeing the real Dublin is on a Le Cool walking tour – each one is different. You could end up in Dublin oldest barbers, seeing a back street exhibition and visiting an interesting pop up gallery!
14. Celebrate New Year in Ireland's party capital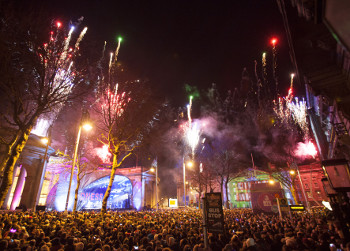 Dublin New Years EveAnd to ring in the New Year and see off the old, party till late at the Dublin NYE Festival as the city becomes an outdoor playground with music, dance, fireworks, and pageantry. Join the People's Procession of Light on New Year's Eve, and dance the night away at The Countdown Concert in College Green, named by Lonely Planet as one of the top five New Year's events in the world!
So what are you waiting, Visit Dublin and enjoy the Craic!
Follow us on Twitter - @DigiPrintNews
Like us on Facebook www.facebook.com/DPNLive - (click the 'LIKED' button/top of page as well)