Designed for Kyocera print heads and to meet textile Industry standards.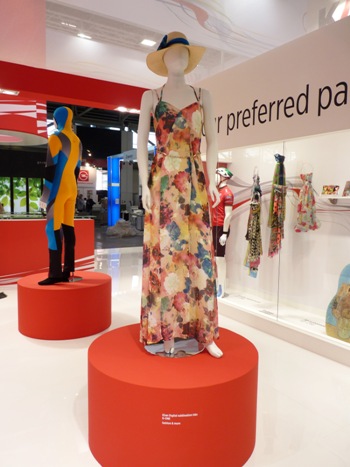 Kiian Digital sublimation inks K-ONEItalian based Kiian Digital, a member of JK group, has chosen ITMA 2015 (12-19 November 2015 – Hall 18 • Booth G106) to launch, Digistar K-Choice, its new pigment based ink for Kyocera print heads.
K-Choice is a water based pigment ink for direct printing using Kyocera printheads. Digistar K-Choice's spot colours have been developed to provide a wide colour gamut enabling faithful reproduction of Fashion colour palettes. Furthermore, Kiinan Digital maintains Digistar K-Choice's printability prolongs printhead life as well as optimising print performance. Furthermore, Digistar K-Choice complies with textile home collection quality standards. "The new printheads enable printing at high-speeds; together with K-Choice they facilitate high productivity and rapid pay-back of capital investment," said Marco Girola, Kiian Digital Marketing Specialist.
ITMA will also provide the chance to show Kiian's water based inks portfolio, tailored to textile printing. The range includes inks for both direct and transfer printing by Kyocera and Ricoh printheads. Furthermore Kiian Digital will show additional bespoke solutions for other high-productivity print heads. "It's the technology that's enabling growth. Constant focus on printhead evolution together with continuous ink innovation assures Kiian Digital a leadership position in the textile printing market," commented Alessandra Borghi, Kiian Digital Sales Director.
The show will also provide an opportunity for Kiian Digital to demonstrate that its product portfolio complies with the most important textile standards approved by the worldwide Textile System. "Compliance with global standards is increasingly important to our customers, and in turn, the end consumer," observed Martin Swift, JK Group Corporate Development Director.
http://www.kiiandigital.com/en
You can Tweet, Like us on Facebook, Share, Google+, Pinit, print and email from the top of this article.
Copyright © 2015, DPNLIVE – All Rights Reserved.