New seminars will cover interior wall décor, wayfinding and directional signage.
Sign & Digital Business Theatre presentationSign & Digital UK, has announced that its Business Theatre is returning in 2016 and this year will also feature a series of in-depth case studies, looking at interior wall décor (Tuesday 19 April), as well as wayfinding and directional signage on Thursday 21 April. 
The show returns to the NEC in Birmingham from 19 to 21 April 2016, and the Business Theatre has been packed with an extensive programme of free seminars each day which the organizers say will provide an insight for visitors on the latest industry trends and growth opportunities.
Seminars will include:
The 'Exploring interior wall décor' seminar, presented by speakers from Hollywood Monster, Vinyl Impression and Signbox, will examine best practice approaches to working with the customer. These will include the brief to design, production and installation, and will provide an understanding of the viability and business case for these solutions. It will use a number of case studies to explore the practical applications for interior decorations and wall graphics.
The 'Innovation in wayfinding and directional signage' seminar will also use case studies from projects such as the Exchange Quay, Salford, Kent & Medway NHS Trust and Grand Central Shopping Centre in Birmingham. It will look at signage design, how wayfinding works in practice and how signage design and typography can create a clear and concise wayfinding structure. Expert speakers for this seminar include David Watts from CCD Design and Ergonomics, Haylee Benton from Trade Signs, Michael Gietzen from Identity Signage & Printing, and Fran Raybould from FRA. 
The BSGA (British Sign & Graphics Association) makes a welcome return to update visitors on the standards and regulations surrounding sign design and construction, as well as a session on the sign maker's obligations under planning law.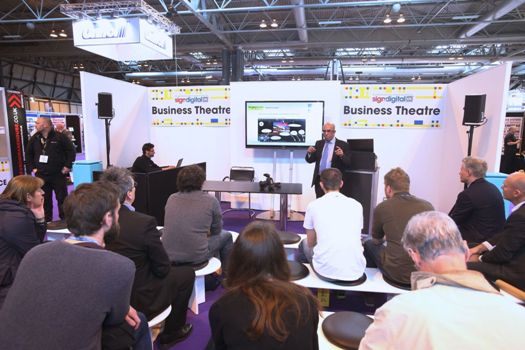 Visitors at a Sign & Digital Business Theatre Another new seminar for 2016, 'A skilled workforce for the signmaking industry' will demonstrate the benefits of investing in apprenticeship training and the new apprenticeship standards for England. This should be of interest to UK signmakers as it will provide details on costs, courses, funding and the benefits of a trained work force to businesses and the industry at large. It will be presented on behalf of the BSGA by Ian Lockhart of Cogent Skills, the Sector Skill Council for the sign industry dealing directly with the Department for Education in the UK.
Other seminar topics include
the 'do's and don'ts of colour management' from Jan Edgecombe and Giles Bristow at Antalis;
'Looking after your wide format eco-solvent printer' presented by Mike Kryvoblocki, Technical Trainer for Roland DG, and
'Understanding Franchising' from Craig Brown of Signs Express.
Hewlett-Packard will run seminars on their 'Wall Art Suite' presented by Rana Raychoudhury, and Dave Williamson from GE Lighting - LED Speciality, will be discussing the myths of illuminating signs with LEDs. Visitors can also hear from Nick Kirby, M.D of Swanline Print who will talk about how businesses can capitalize on a changing digital market.
Rudi Blackett, event director for Sign & Digital UK said:
"We are delighted to unveil the exciting range of seminars featured in this year's Business Theatre. Always a hugely popular show feature, these sessions are for anyone looking for inspiration and practical advice on how to expand and improve their services for the year ahead."
In addition to the Business Theatre, 2016 will also see the return of training sessions on the latest software packages from Adobe, Corel and SignLab in their own theatres.
For full details of all seminars and workshops at the show, visit: http://www.signuk.com/free-seminars-workshops/
Sign & Digital UK 2016 takes place at the NEC, Birmingham from 19 to 21 April and is free to attend for trade visitors. For more information and a current exhibitor list, please visit: www.signanddigitaluk.com. To enquire about exhibiting, please contact the show team on: This email address is being protected from spambots. You need JavaScript enabled to view it. or call 0044 (0) 1342 332000.
You can Tweet, Like us on Facebook, Share, Google+, Pinit, print and email from the top of this article.
Copyright © 2016, DPNLIVE – All Rights Reserved.