Company to demonstrate how it continues

to invest heavily in the industry.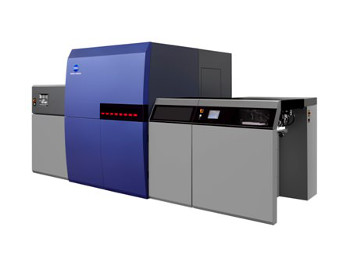 Konica Minolta's KM-1 B2 cut-sheet inkjet pressKonica Minolta has announced that it will use IPEX 2014 to demonstrate how its investments are helping the industry to adapt to the changing landscape for printed communications. The company intends to use the exhibition to help educate visitors through a packed seminar programme. Additionally, Konica Minolta will continue to highlight the importance it is placing on inkjet technology with further updates on KM1, its B2 digital inkjet press, which will be at the show for the first time.
Industry experts Neil Falconer (printfuture), Matthew Parker (print champion) and Charlotte Graham-Cumming (B2B marketer from creative agency Ice Blue Sky) will make presentations every day in the Konica Minolta's business zone theatre at Ipex from 24-29 March (Stand N1 C130). These are geared to show how commercial printers should work as a community with the creative industry, building structured business plans that highlight new market opportunities through marketing automation services, and how you should stop selling on price.
In addition, new workflow solutions that Konica Minolta has been creating will be demonstrated to explain how cost and complexity can be removed by showing how multiple jobs can be managed from e-commerce through to production on its new digital colour press range (bizhub PRO/PRESS C1060/70).
Elsewhere on the stand, live production systems will be complemented by further demonstrations and displays covering areas such as workflow, variable data printing, web-to-print and colour management, as well as marketing and cross-media applications.
The company will unveil a new 'green initiative 'of a certified Konica Minolta Production Printing Carbon Compensation project where customers buying systems at the show will be compensated for CO2 emission. Konica Minolta's own stand, including the machines on display, will also be 'carbon neutral'.
Konica Minolta's growing portfolio will have 12 systems running live at Ipex. These will cover commercial production, packaging, wide format, document printing, corporate, on-demand publishing, direct mail, labels and photo-printing markets. Among the highlights will be the KM-1 B2 cut-sheet inkjet press, as well as the bizhub PRO and PRESS C1060 and C1070 systems, plus the bizhub PRESS 2250P mono system. Other attractions include a workflow automation area and other partner pre-press and post-press solutions.
Konica Minolta and its partners and customers are also participating in the many visitor attractions at Ipex, including the World Print Summit. Olaf Lorenz, General Manager, International Marketing, Konica Minolta Business Solutions Europe, is chairing a debate, 'Can Print Co-Exist with Digital Communications in the Future', on 25 March at noon which will also have Andy Barber, General Manager, imail, UK Mail, Andy Fry, Managing Director of Nova Direct, and Charlotte Graham-Cumming, of Ice Blue Sky, as panellists.
Customer case studies and presentations will also be featured in specific sessions for the Cross Media Show and Masterclasses at Ipex. Among the topics will be variable data printing and web-to-print.
Lorenz said: "We look forward to welcoming and supporting visitors on the Konica Minolta stand and demonstrate how our continued focus to develop the industry, through our investments, can help them enable their businesses to transform and adapt to the changing communications landscape. In addition to demonstrating our market-leading production printing systems, solutions and software, we will help the industry to give shape to ideas by providing practical support, information and advice through our Digital 1234 business-builder programme."
He added: "Konica Minolta is heavily committed to the print and print communication industry and Ipex will be another pivotal step forward as we continue to expand our customer and move into other areas."
Visitors can register for Ipex HERE

For further information about the company, visit www.konicaminolta.eu.
Follow us on Twitter - @DigiPrintNews
Like us on Facebook www.facebook.com/DPNLive - (click the 'LIKED' button/top of page as well)
Copyright © 2014, DPNLIVE – All Rights Reserved.